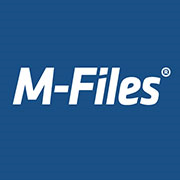 Dallas, TX (PRWEB) May 24, 2016
M-Files Corporation, a provider of solutions that dramatically improve how businesses manage documents and other information, today announced several customers in the manufacturing sector -- Plasma-Therm, Control Design and AmeriTex Machine and Fab -- that illustrate increasing demand for its Enterprise Information Management (EIM) and Quality Management System (QMS) solutions in this quality-intensive, regulated market.
FDA regulations, ISO9001:2015, good manufacturing practices (GMP) and other regulations and standards require that companies manage file versions, document and execute standard operating procedures (SOP), control employee access, facilitate training initiatives and implement appropriate change control procedures for important organizational information. Doing these things efficiently and consistently form the basis of manufacturing practices that deliver quality and ensure compliance with standards and regulations.
"More manufacturers are realizing that in order to improve quality and mitigate risk, they need to first improve the way they manage processes and information," said Greg Milliken, vice president of marketing at M-Files Corporation. "M-Files is enabling hundreds of manufacturers around the world to change their whole approach to quality and compliance from an esoteric discipline overseen by a small group of experts to a bi-product of an organization that lives it day to day."
Control Design Leverages M-Files for Quality Management and ISO Certification
Control Design is a manufacturer of control systems and panels, and the company uses M-Files to help maintain ISO certification while also ensuring employees on their shop floor are always working from the most current and accurate drawings and related information.
"With our old network drive system for managing documents, it was difficult to track client revisions and users were constantly moving things inadvertently or accidentally deleting files and folders," said Ken Thomas, document control coordinator at Control Design. "M-Files has eliminated these and many other issues, and finding files associated with a particular project is as easy as using the search function. With the version control capabilities of M-Files, we've streamlined the process of implementing and tracking customer revisions while ensuring our production groups are working from the most current drawings and documentation. Plus, M-Files ensures that we maintain documentation consistency, assuring that we remain ISO certified."
Plasma-Therm Integrates M-Files with ERP System and Other Business Applications
Plasma-Therm is a U.S.-based manufacturer of etch and thin film deposition equipment for a number of global compound semiconductor and related specialty markets. In addition to using M-Files to manage information and processes related to manufacturing, the company uses the system for other important "back office" business content and processes, and has integrated M-Files with their ERP system and issue tracking system, ensuring the correct versions of important documents and information are accessible across all company systems.
"Our employees need to work cross-functionally and cross-departmentally on proposals, scientific research documents and other business-critical content, and it's important that everyone is working with the same set of information," said Jason Plumhoff, business applications manager at Plasma-Therm. "We were relying on Windows file folders to organize information, but our users were becoming frustrated with version control across different folders. Now with M-Files, our employees don't have to worry about which application or folder a document resides in and they can be confident that they are always working with the most up to date version."
AmeriTex Machine and Fab Taps M-Files for Front and Back Office Operations
AmeriTex Machine and Fab designs, develops, manufactures and distributes metal products for the telecommunications and petrochemicals industries and other markets. The company uses M-Files for managing workflows and task assignments throughout its entire production process.
"With M-Files, we have workflows for tracking the status of tasks related to specific work orders and jobs, and we can instantly ascertain the status of any work order," said Jeff Miller, controller at AmeriTex Machine and Fab. "In addition, we're able to create relationships in M-Files between work order documentation, such as packing lists, proof of customer deliveries and customer invoices, with work order task assignments. This helps to ensure order accuracy while also making work order processing more efficient and productive. M-Files saves us time and money."
About M-Files Corporation
M-Files enterprise information management (EIM) solutions eliminate information silos and provide quick and easy access to the right content from any core business system and device. M-Files achieves higher levels of user adoption resulting in faster ROI with a uniquely intuitive approach to EIM that is based on managing information by "what" it is versus "where" it's stored. With flexible on-premises, cloud and hybrid deployment options, M-Files places the power of EIM in the hands of the business user and reduces demands on IT by enabling those closest to the business need to access and control content based on their requirements. Thousands of organizations in over 100 countries use the M-Files EIM system as a single platform for managing front office and back office business operations, which improves productivity and quality while ensuring compliance with industry regulations and standards, including companies such as SAS, OMV and NBC Universal. For more information, visit http://www.m-files.com.
M-Files is a registered trademark of M-Files Corporation. All other registered trademarks belong to their respective owners.