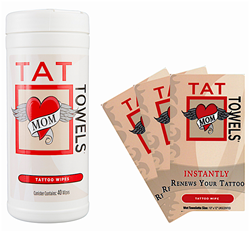 "I love the way Tat Towels instantly moisturizes and enhances my tattoos" -Customer Quote
Mundelein, IL (PRWEB) May 24, 2016
TAT TOWELS™ - wipes are specifically formulated to eliminate the need for using those messy lotions and oils to moisturize and enhance your tattoos.
Tat Towels™ work instantly and are safe to use on any tattoo. The wipes are non-greasy, do not stain, and your skin will not become sticky after usage. Tat Towels™ are unscented and each wipe is recommended for single use. A canister of forty 7" by 10" wipes sells for $9.95 and can be purchased at http://www.tattowels.com Later this summer, individually packed Tat Towel wipes will be available.
Tattoos are more popular than ever. In recent years they have gone from subculture to pop culture. Just check out these TAT STATS:

45 million American adults have at least one tattoo
40% of Americans between 26-40 have at least one tattoo
Americans spend more than $1.6 billion annually on tattoos
Created by Body Wipe Company, a provider of premium personal care wipes, Tat Towels™ took over 2 years to develop. The wipes main ingredients include white mineral oil, pomegranate, cranberry and grape seed oils.
What makes Tat Towels™ unique?

As the first wipes specifically designed to moisturize and enhance tattoos, there is no other product like it on the market
They dry quickly and do not leave a greasy mess like the tattoo lotions and oils currently on the market
They work instantly and do not need to be used numerous times to see results
They will not harm the tattoo ink
Tat Towels™ are not intended to be used as an immediate tattoo aftercare product, as they are not anti-bacterial, anti-inflammatory, or an antiseptic.
About Body Wipe Company
Co-founders, Joel Saban and Jim Bahcall took their previous company, Paper Shower, LLC, that started in 2010 with a single Paper Shower product and over the years significantly expanded its personal care wipes product line. With this expansion into various wipe markets, the company needed a new name that best represented this growth and diversity of personal care wipes. So in 2016, Paper Shower, LLC was renamed Body Wipe Company, while still keeping their popular Paper Shower product line. Body Wipe Company is currently a finalist for season 8 on the mega ABC hit show Shark Tank. Joel and Jim state "we remain passionate about bringing innovative and quality personal care products to our customers…one wipe at a time!"
Please contact Joel Saban or Jim Bahcall directly if you would like a Tat Towels™product sample to review or would like further information
Joel:
jsaban(at)bodywipecompany(dot)com
Office: 1-888-632-4343 Ext 703
Cell: 1-847-687-9321
Jim:
jbahcall(at)bodywipecompany(dot)com
Office: 1-888-632-4343 Ext 701
Cell: 1-847-682-0522
Body Wipe Company
1027 High St.
Mundelein, IL 60060