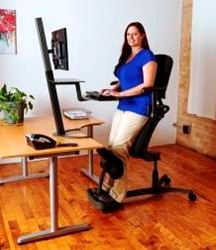 HealthPostures will showcase its ergonomics products, workplace solutions with winning designs, such as the Stance Angle Chair, TaskMate desktop sit-stand series.
Atlanta GA (PRWEB) May 25, 2016
HealthPostures, a national ergonomics manufacturer and workplace solutions builder, has announced that it will join America's leading engineers at the American Society of Safety Engineers Conference in Atlanta, Georgia. The four-day conference will be held at the Georgia World Congress Center.
Engineers, speakers and exhibitors from more than 40 countries are scheduled to appear at the conference. Attendance for occupational safety professionals is expected to exceed 4,000. HealthPostures will showcase its ergonomics products, workplace solutions with winning designs, such as the Stance Angle Chair, TaskMate Assisted Lift Series, the TaskMate Manual series and ergonomic sit/stand chairs.
Made in the United States, HealthPostures' ergonomics solutions offer a wide range of benefits including back support, stress and pressure reduction, ease when moving from sitting to standing and angled foot rest. Robust steel construction gives the ergonomics solutions a welcomed longevity. In addition to steel construction, HealthPostures' products come with a five year warranty. Customers can take advantage of the company's existing free shipping offer.
Safety officials and laypersons who visit the HealthPostures' booth can see how adjustable the ergonomics products are first hand. Not only will they have opportunities to speak with an experienced HealthPostures' representative, conference attendees may also be able to try the showcased ergonomic solution s out, sitting and standing in the mobile equipment.
More than 235 sessions will be held at the conference. Feature speakers include Frans Johansson, Dan Gardner, David Michaels, Walter Bond and Drew Dudley. Topics that feature speakers will focus on include The Click Movement: Seizing Opportunity in an Unpredictable World, From Forecasting the Super Forecasting, Life Cycle of a Safety Career, No One Can Stop You But You and Creating Cultures of Leadership.
An academic forum, welcoming reception and safety training seminars will also be held. The HealthPostures' representative can respond to inquiries before and after the sit to stand pros and cons workstations session. Examples of questions that the representative can help attendees with include the impact of sitting for prolonged periods on human health and how HealthPostures workstations increase mobility while allowing workers to improve productivity.
Early conference registration is encouraged. Seminar and workshop space can fill up quickly. Centennial and platinum sponsors for the American Society of Safety Engineers Conference are Cintas, Click Safety, CLMI, Grainger, Safe Start and Coca Cola.
About HealthPostures
Founded in the 1990s, HealthPostures LLC (https://healthpostures.com) has been a leader in the workplace solutions space for more than two decades. The company specializes in the design and manufacturing of workplace solutions. Products that HealthPostures develops may help to relieve back and neck pain, headaches and other musculoskeletal disorders. A primary mission of HealthPostures' is to "strive to provide quality products that will help transform your sedentary life so you have a healthy way to work." Sought after ergonomics equipment, including sit stand products, that HealthPostures designs include surface Taskmates, the TaskMate Go Laptop, dual monitor sit stand work stations and Stance move seat extensions. The company's strong reputation and proven products and accessories continue to attract regional and national distributors and resellers.
Contact:
HealthPostures LLC
16801 Industrial Circle
Prior Lake MN 372
800-277-1841
https://healthpostures.com
Resources:
http://safety.asse.org/