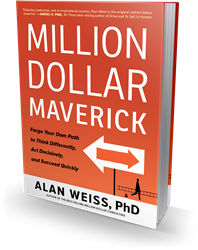 It's not the road most traveled or less traveled. It's the road you create for yourself.
Boston, MA (PRWEB) May 24, 2016
Bibliomotion is thrilled to annouce the release of MILLION DOLLAR MAVERICK: Forge Your Own Path to Think Differently, Act Decisively, and Succeed Quickly by Alan Weiss, PhD (May 24, 2016).
According to bestselling author Alan Weiss, success is a combination of opportunism, disciplined work, luck, and timing. For entrepreneurs, this means defying convention and striking out on their own original path to success.
In his latest book, MILLION DOLLAR MAVERICK: Forge Your Own Path to Think Differently, Act Decisively, and Succeed Quickly (Bibliomotion, Inc.; Hardcover; May 24, 2016) Weiss explains that entrepreneurs create value and then monetize it. They do what they love and are great at. They do not—contrary to "conventional wisdom"—chase money. They attract money. And most of all, they think differently, act decisively—and, if talent and timing are with them, succeed quickly.
"My observations of entrepreneurs and successful corporate executives, as well as groundbreaking organizations, are that they don't march to the beat of a distant drummer, they create their uniquely personal music," he writes.
Drawing on over thirty years of experience as a consultant, speaker, and global expert, Weiss tells the story of how he built his business and global reputation. He also shares his "Million Dollar Tips"—not found in any of his other books—to help entrepreneurs gain influence, build confidence, and develop the critical thinking skills they need to discover the inside track to rapid success.
Weiss explains that this inside track is more like a steeplechase than a marathon, and your ego is one of the most important hurtles to overcome.
"If you want to make it as an entrepreneur, your mindset must be egoless," he writes. That is, you have to check your ego at the door, which can be achieved by following Weiss's tips for building rapid resilience:

Ignore unsolicited feedback. It's virtually always for the sender. Don't become a bouncing ball in a pinball machine.
Learn to say no without justification. We get "trapped" into situations that can be quite damaging. You can say no to a request to head a fundraising committee, perform a pro bono service, or invite someone you dislike to an event. You don't need a justification. You're not on trial.
Learn something from every endeavor. If you're rejected for a project, always ask, "Would you take a minute to educate me about what I could have done better to win your business?"
Look out the windshield, not the rearview mirror. Focus on what's ahead, not the road already traveled. And keep moving. If you are going 50 miles an hour and then stop, all that dust you generated will catch up and envelop you.
Treat yourself well after a "loss," not only after a "win." You're not rewarding failure in so doing, but rewarding a good attempt and the right behaviors. Large organizations especially should reward behaviors, not solely victories.
MILLION DOLLAR MAVERICK provides pragmatic, transferable skills and behaviors based on Weiss's professional and personal experiences. Entrepreneurs will develop the critical skills needed to create value and monetize it. Most importantly, they will learn to think differently, act decisively, and succeed quickly.
Weiss is the author of over 60 books in 12 languages, including the bestselling Million Dollar Consulting (McGraw-Hill), currently in its 25th year and fifth edition.
Alan Weiss is one of those rare people who can say he is a consultant, speaker, and author and mean it. His consulting firm, Summit Consulting Group, Inc. has attracted clients such as Merck, Hewlett-Packard, GE, Mercedes-Benz, State Street Corporation, Times Mirror Group, The Federal Reserve, The New York Times Corporation, and over 500 other leading organizations.
His speaking typically includes 30 keynotes a year at major conferences, and he has been a visiting faculty member at seven different universities. He additionally served as an adjunct professor in the Graduate School of Business at the University of Rhode Island where he taught courses on advanced management and consulting skills.
His PhD is in psychology and he has been a member of numerous major psychological associations, and served on the Board of Governors of Harvard University's Center for Mental Health and the Media.
He is an inductee into the Professional Speaking Hall of Fame® and the concurrent recipient of the National Speakers Association Council of Peers Award of Excellence, representing the top 1% of professional speakers in the world. He has been named a Fellow of the Institute of Management Consultants, one of only two people in history holding both those designations.
His prolific publishing includes over 500 articles and 60 books, including his bestseller, Million Dollar Consulting (McGraw-Hill), currently in its 25th year and fifth edition. His books have been on the curricula at a number of major universities, and have been translated into twelve languages.
He is the recipient of the Lifetime Achievement Award of the American Press Institute, the first-ever for a non-journalist, and one of only seven awarded in the 65-year history of the association.
PRAISE FOR MILLION DOLLAR MAVERICK
"A fearless contrarian, and an inspirational success, Alan Weiss is the original million dollar maverick." – Daniel H. Pink, NYT best-selling author of Drive and To Sell Is Human
"This breezy, engaging book is filled with pearls, emeralds, and diamonds of wisdom for anyone who wants to build a business, a life, or both." – Daniel Gilbert, Edgar Pierce Professor of Psychology, Harvard University; author of the best-seller Stumbling on Happiness
"Million Dollar Maverick continues Alan's amazing work – it is pragmatic, immediately applicable, and fun! – Marshall Goldsmith, Thinkers 50 world's top rated executive coach and #1 New York Times best-selling author of Triggers and What Got You Here Won't Get You There
"This book is another extraordinary demonstration of how thoughtfully and purposefully Alan Weiss approaches his work. He is a genius at interpreting complex ideas and principles in easy-to-understand examples and applies methods that help us achieve success and significance at work and in life. Don't just read this book. Savor it." – Nido Qubein, President of High Point University, chairman of General Harvest Bread Co., recipient of the Ellis Island Medal of Honor, member of National Speakers Association Hall of Fame®
"Alan Weiss has improved my health, wealth, and happiness far more than I could have ever dreamed was possible. His work is revolutionary." – Colleen Francis, CEO of Engage Selling and author of Nonstop Sales Boom
"Implementing Alan's advice for more than ten years not only contributed dramatically to the qualitative and quantitative growth of my firm, it encouraged me to think differently—in a more holistic way and with an abundance mindset for which I am deeply grateful." – Prof. Dr. Guido Quelle, Managing Partner of Mandat Consulting Group and author of Profitable Growth
"I've listened to Alan Weiss speak three times, and I was extremely impressed three times. This third time was by far the greatest day of speaking I've ever attended… If you've never heard Alan speak, and pass up a chance to hear him speak, then you're crazy. If you have not heard Alan Weiss speak yet, make sure that you do. Alan possesses two of the qualities that I most value: genuineness and sincerity. Alan is genuine and sincere. He keeps it real" – Steven David, Bloomberg
"I have three master's degrees and a doctorate. These degrees were obtained at great effort, time, expense, and energy. I have just graduated from Alan Weiss's Million Dollar Consulting® College. In terms of showing me how to provide value in my life and the lives of others, this experience was of more value than any of my degrees. Let me amend that: It was more valuable than all of them put together." – Dr. Sally Wright, Alliance Consulting
"One of the most highly respected independent consultants in the country. – New York Post
"One of the top motivational speakers in the country." – Providence Journal
Bibliomotion is a book publishing house designed for the new publishing landscape. While many publishers work to retrofit old processes for new realities, Bibliomotion was founded by book-industry veterans who believe the best approach is a fresh one – one that focuses on empowering authors and serving readers above all else. Moving away from the top-down model that has dominated the publishing process for years, we give each member of the team – including the author – a seat at the table from the very beginning and in doing so, work side-by-side to launch and sell the best content possible, making it available in a variety of forms.