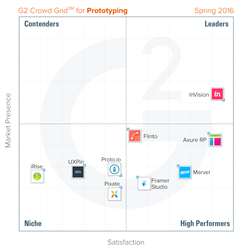 Chicago (PRWEB) May 26, 2016
G2 Crowd, the world's leading business software review platform, today released the Spring 2016 Prototyping Grid report to help businesses make the best prototyping technology decision. InVision was named a Leader in the report, receiving strong customer satisfaction scores with a large market presence.
Axure RP, Marvel, Flinto, and Framer Studio were named High Performers in the report, earning strong customer satisfaction marks with smaller market presence scores. InVision earned both the highest overall satisfaction score and the highest overall market presence score.
The Grid leverages customer satisfaction data reported by authenticated users along with vendor market presence determined from social and public data. Based on a combination of these scores, each software solution is categorized as a Leader, High Performer, Contender, or Niche.
Key Findings:
•Animations are important – Users continually complimented products that were able to add animations and transitions. Users wanted highly responsive and visually appealing products that were as close as possible to a final product.
•High sharing scores – While some products are focused on fidelity, products were commended for enabling developers to share prototypes with clients. Reviewers valued feedback from testers and were motivated to quickly reiterate and share another testable prototype.
•Designers need flexibility – Products received praise for their ability to function across platforms. Reviewers also had a high demand for products able to produce prototypes for different platforms and devices.
About the Prototyping Grid report:
•The report is based on more than 280 reviews written by business professionals.
•Of the roughly 25 products listed in G2 Crowd's prototyping category, the ranked products each received ten or more reviews to qualify for inclusion on the Grid.
About G2 Crowd, Inc.
G2 Crowd, the world's leading business software review platform, leverages more than 75,000 user reviews to drive better purchasing decisions. Technology buyers, investors, and analysts use the site to compare and select the best software based on peer reviews and synthesized social data. Monthly more than a half-million people visit G2 Crowd's site. Co-founded by the founder and former executives from SaaS leader BigMachines and backed by roughly $12 million in capital, G2 Crowd aims to bring authenticity and transparency to business technology research. For more information, go to G2Crowd.com.