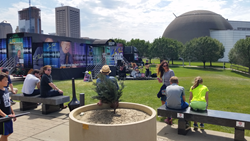 MADISON HEIGHTS, MI (PRWEB) May 24, 2016
WHAT:
Les Paul's Big Sound Experience is making a stop in Washington, D.C. as it reaches the end of its one-year, cross-country tour. The mobile exhibit was developed by the Les Paul Foundation to celebrate Les Paul's 100th birthday. It has traveled across the United States stopping at festivals, fairs and schools for the past year, and will attend the American Alliance of Museums' Annual Meeting and MuseumExpo from Thursday, May 26 until Saturday, May 28. Guests at the expo can climb aboard and experience the life and legacy of Les Paul for themselves.
Designed and built by Michigan-based company MRA mobile experiential, Les Paul's Big Sound Experience is housed in a 53-foot double-expandable trailer that expands into 1,000 square feet of interactive experiences. The exhibit is the ultimate tribute to Les Paul's history, music and inventions.
In partnership with Green Bay, Wisc. digital interactive agency Balance Studios, MRA outfitted the exhibit with state-of-the-art technologies to give visitors a personalized experience. Customized interactive stations include an audio mixing experience to customize Les Paul tracks and a "What's Your Sound" station for visitors to create their own tracks using Les' ground-breaking multi-track recording techniques. Guests can also "Get in the Picture with Les Paul" in the exhibit's popular photo booth and social media station.
WHEN/WHERE:
American Alliance of Museums
(Exhibition hall open to registered attendees only)
2016 Annual Meeting & Museum Expo
Walter E. Washington Convention Center
801 Mount Vernon Place NW, Washington, D.C. 20001
May 26, 2016: 10:00 a.m. – 5:00 p.m.
May 27, 2016: 12:00 p.m. – 5:00 p.m.
May 28, 2016: 9 a.m. – 12:00 p.m.
High resolution images of the exhibit are available upon request.