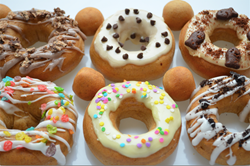 Tired of that stinky shake? Have a DOUGHnut or two instead.
Redwood City, CA (PRWEB) May 26, 2016
A health conscious snack that doesn't sacrifice taste? It's possible! In one year's time, Silicon Valley-based startup, The Dough Bar, has ignited an undeniable buzz in the protein product community by offering an alternative to the traditional bar or shake -- a doughnut. But not just any doughnut.  These doughnuts are packed with 11 grams of protein and made from a healthy blend of high quality ingredients. They're also baked (not fried!) and shipped directly to consumers across the United States within days to ensure freshness. Each one comes with individually packaged toppings and glazes, providing accurate nutritional value and the ability to indulge in moderation. 
      
The Dough Bar will celebrate one year of business on June 10, 2016. "The Dough Bar is on a mission to inspire people to live a healthy and active lifestyle, while enjoying a healthy twist on the traditional treats they love', said Marquez Fernandez, CEO of The Dough Bar. This mission allows The Dough Bar to connect across a broad spectrum of people, from elite fitness competitors, Cross Fit champs, and diet enthusiasts to the curious doughnut lovers, children, and even the self-proclaimed skeptics of a "healthy" donut. And, their fan base continues to expand, with 35,000 Instagram followers for their account (@doughbardoughnuts).
The Dough Bar constitutes much of their success to relationships established on social media and individualized customer service. "We see our customers, athletes and colleagues as family." said Ondrea Siniari, Co-Owner of the organization. "We aren't just another startup, we see ourselves as a 'Mom and Pop' business that truly cares about the lives and well-being of those we serve". As a customer recently reviewed, "Not only are the DOUGHnuts AMAZING, they offer the best and most personalized customer service I've ever had". The Dough Bar also gives a portion of sales to nonprofit organizations combating childhood obesity.
Dough Bar Doughnuts can be purchased on their online store: http://www.doughbardoughnuts.com/. The store is restocked weekly, but the doughnuts sell out fast -- so fast that customers are encouraged to set alarms to ensure they don't miss out on the featured flavors for the week. While The Dough Bar does not currently have a storefront, they ship across the United States and offer local pick up at two Max Muscle locations in Northern California: The Blossom Hill location in San Jose, and San Carlos.