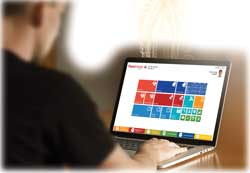 We are excited to be able to offer the first true cloud solution... and proud to be able to offer peace of mind in the security and stability of all of our products.
Clearwater, FL (PRWEB) May 24, 2016
Data Age Business Systems, the developers of PawnMaster, the leading pawn shop software, announced today that they will be launching the industry's first true cloud solution called PawnMaster Ignite. The company prides itself on providing stable software solutions in a volatile industry. Large pawn shops and small pawn shops alike will benefit from the scalability and usability of the new platform. The product will be backed by Amazon Web Services cloud infrastructure.
PawnMaster has been developing the industry's leading software since 1988, and will continue to support their windows-based products for pawn shops that don't have reliable access to the Internet. For the first time in this industry, pawn brokers will have the option to align their software with the needs of their business. PawnMaster will further expand globally with the new cloud-based offering. The state-of-the-art software will be demonstrated in July at the National Pawnbrokers Association's annual Pawn Expo. Presales will be available beforehand.
"We are excited to be able to offer the first true cloud solution to pawnbrokers worldwide," says PawnMaster's COO, Len Summa. "With several software providers going out of business or making major structural changes during the first half of this year, there is a lot of fear surrounding the livelihood of these business owners. We are proud to be able to offer peace of mind in the security and stability of all of our products."
With conflicting information about what solutions are available in the market, PawnMaster plans to launch educational materials to empower businesses with the resources they need to make the best decisions for their company.
Data Age/PawnMaster is a privately held company that has grown organically by prudent fiscal management and the careful cultivation of trusted relationships with customers, partners, and a network of resellers. Today, PawnMaster serves nearly 3,000 customers in 29 countries within the Pawn, Cell Phone Repair, Convenience Store, Liquor Store, Check Cashing, Second-Hand, Payroll Advance and Title Loan industries. Both individual unit and multi-store businesses rely on the company for its expertise in Point-of-Sale (POS) technology, loan management, inventory management, scanning and bar coding products, biometrics, risk mitigation, regulatory compliance, backend business intelligence reporting and dashboards, and Customer Relationship Management (CRM) systems.
The company has experienced significant growth in its core business and exploited opportunities in the marketplace to extend its line. Capitalizing on the introduction of new technologies and listening to their customers, PawnMaster continually creates new products, and adds features to make them more robust. With a decreasing number of competitors, pawn brokers need a solid solution they can count on.
About Data Age Business Systems/PawnMaster
Data Age offers industry leading financial transaction software solutions that enable businesses doing non-traditional lending, buy/sell, check cashing and even retailers to scale their organization, deliver expeditious customer service, capture data quickly and accurately, mitigate risk, adhere to regulatory mandates, manage employee challenges, and drive profitability.
To learn more, visit http://www.pawnmaster.com or call 1-888-949-7296.
###