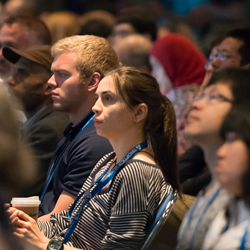 More than 3,000 reports on the latest in research and applications development are on the program for the weeklong SPIE Optics + Photonics.
BELLINGHAM, Washington, USA (PRWEB) May 24, 2016
Astrophysics' new LIGO-enabled paradigm for exploring the universe, the latest findings of the Mars rovers, and bioinspired robotics are just a few topics in optical engineering to be featured at SPIE Optics + Photonics in August.
More than 3,000 reports on the latest in research and applications development are on the program for the weeklong event at the San Diego, California, Convention Center, running 28 August through 1 September.
A few of the featured speakers are:

Alexandra Boltasseva of Purdue University, on emerging materials for nanophotonics and plasmonics. These technologies "have taught us unprecedented ways to control the flow of light at the nanometer scale, unfolding new optical phenomena and redefining centuries-old optical elements," Boltasseva said. New materials are helping to drive consumer-level applications in sensing, spectroscopy, communication, and energy. (See Boltasseva's profile in the 2016 SPIE Women in Optics Planner.)
Eli Yablonovitch of the University of California, Berkeley, on the potential of optoelectronics in development of power sources. New records for solar efficiency have been achieved through recognizing the importance of extracting luminescent emission, Yablonovitch noted. The technology revolutionizes non-solar applications of photovoltaics, and could enable lightweight "engines" providing power to electric cars, aerial vehicles, spacecraft, homes, and stationary power plants.
Harry Atwater of Caltech, on artificial photosynthesis. "The design of highly efficient, non-biological, molecular-level energy conversion 'machines' that generate fuels directly from sunlight, water, and carbon dioxide is both a formidable challenge and an opportunity that could have a revolutionary impact on our energy system and efforts to address climate change," Atwater said.
Zhenan Bao of Stanford University, on stretchable electronic materials for skin-inspired devices. Molecular design concepts for stretchable semiconductors, dielectrics, and conductors result in materials that may be used to make stretchable transistors and simple circuits, Bao said.
Ifor Samuel of the University of St. Andrews on organic semiconductors for communications, sensing, and therapy. Organic semiconductors combine novel electronic properties with simple fabrication and the scope to tune properties by changing molecular structure, and have been extensively researched for use in displays, lighting, and solar cells, Samuel said. Other applications are in visible light communication —Li-Fi — to convert blue light from nitride LEDs to white light, and in healthcare, to make wearable light sources for skin cancer treatment. (Hear Samuel on organic semiconductors in the SPIE Newsroom video interview.)
Daniel Sigg of Caltech and the LIGO (Laser Interferometer Gravitational-wave Observatory) Hanford facility will detail the main features of the detectors that last September launched the era of gravitational-wave astronomy, with the observation of a transient gravitational wave signal determined to be the coalescence of two black holes. (See more about the LIGO discovery in the SPIE Newsroom video interview.)
SPIE Vice President Maryellen Giger, University of Chicago, will describe how the role of computerized image analysis for breast cancer is expanding beyond screening into risk assessment, diagnosis, prognosis, and therapy monitoring. "Computerized methods of analyzing mammograms, ultrasound, and magnetic resonance images can yield signatures that may ultimately contribute to the design of patient-specific cancer treatments," Giger said.
SPIE 2016 Gold Medal winner Paras Prasad, University at Buffalo, State University of New York, will give the first of three talks in a symposium-wide plenary session on Sunday evening. Prasad will tell how applications from brain research to solar-energy conversion to security encoding can be advanced via photon management through in situ photon conversion with optical nanotransformers.
Mars Curiosity Rover scientist Melissa Rice of Western Washington University in her plenary talk will show the latest images from Curiosity as well as the Opportunity Rover, and discuss instrumentation in use now and plans for future imaging science in the next rover, to be launched in 2020.
Michael Tolley, University of California, San Diego, in the third plenary talk on Sunday will describe work in the university's Bioinspired Robotics and Design Lab in robotic systems including soft robots and systems that self-assemble, and hold potential to address problems in healthcare, manufacturing, and disaster relief.
SPIE Optics + Photonics also offers a three-day free-admission exhibition, industry sessions on commercialization, smart cities, and other topics, an extensive suite of professional development courses in fundamental and advanced technologies, and numerous networking opportunities.
New conferences among the total of 65 in the event's four symposia — Nanoscience + Engineering, Optics + Photonics for Sustainable Energy, Organic Photonics + Electronics, and Optical Engineering + Applications — cover:

UV and higher energy photonic sources and materials
CubeSats and nanosats for remote sensing.
More details including registration information are on the event website.
About SPIE
SPIE is the international society for optics and photonics, an educational not-for-profit organization founded in 1955 to advance light-based science, engineering, and technology. The Society serves nearly 264,000 constituents from approximately 166 countries, offering conferences and their published proceedings, continuing education, books, journals, and the SPIE Digital Library. In 2015, SPIE provided more than $5.2 million in support of education and outreach programs. http://www.spie.org