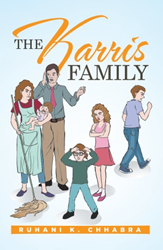 Writing this book was a way for me to express myself,
FREMONT, Calif. (PRWEB) May 25, 2016
What does one do with a broken family? Fix it or let nature take its course? In her new book, "The Karris Family," author Ruhani K. Chhabra writes about a young girl's struggle to cope with the changes impacting her daily family life.
Chhabra is only 11-years-old, but she already knows what it is like to want to change your home life. Chhabra took a look around one day and realized how disconnected she felt from her own family because of everyone's busy schedules. She was the youngest member of the family, but she knew she had to do something.
"The Karris Family" features main character Leah, who is bothered by the fact that her family argues, and longs for a picture perfect family like the one her cousins have. As the story unfolds Leah begins to mature and discover how life is not always going to be how one might think it should be.
"Writing this book was a way for me to express myself," Chhabra said. "It was like a diary, except it wasn't my life. It was Leah's. I loved being able to express myself, and thousands of other children around the globe."
In "The Karris Family," Chhabra shows the true meaning of family. The feelings she presents in the book – such as frustration, sadness and anger – are all feelings children face at some point in their lives.
"Not all families are perfect," Chhabra said. "They all have their good and bad days but none of that matters as long as they love each other."
For more information, visit http://www.bookstore.xlibris.com
"The Karris Family"
By Ruhani K. Chhabra
ISBN: 978-1-5144-1789-8
Available in softcover, hardcover, e-book
Available on Amazon, Barnes & Noble and Xlibris
About the author
Ruhani Chhabra has been writing since she learned how to grip a pencil. She is an 11-year-old girl who wants to teach literature when she grows up. Chhabra wrote this book to express her feelings about her own family that remains to busy to interact with one another. She currently lives with her parents and teenage brother in California.
# # #
For review copies or interview requests, contact:
Megan Hardesty
317.602.7137
mhardesty(at)bohlsengroup(dot)com