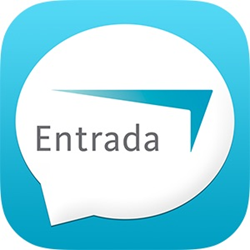 Entrada's commitment has always been to improve workflows and drive caregiver productivity while dealing with ever increasing administrative burdens
Nashville, Tenn. (PRWEB) May 24, 2016
Entrada, a leading provider of cloud-based, healthcare technology solutions, announced today an update to its mobile productivity platform, enhancing its groundbreaking solution to include new and refined mobile features, improved performance, and expansion of its EHR integration.
Entrada provides a fast and easy way to document detailed patient encounters through its EHR-integrated mobile dictation and secure image capture features, while streamlining communication between the patient's care team with secure messaging and mobile viewing of the provider's clinical schedule and EHR patient data. Entrada has expanded this functionality by introducing the ability to upload text and images from a secure message conversation directly into the EHR to be included as part of the patient record. Entrada has also accelerated the real-time syncing of PM/EHR data to and from its device and has optimized its user interface for Android, among other improvements.
"Entrada's commitment has always been to improve workflows and drive caregiver productivity while dealing with ever increasing administrative burdens," said Mike Cardwell, Vice President of Product Management. "This release, like our others, advances that commitment with extended mobile functionality that further untethers our users from the office computer while limiting the necessity to engage the EHR."
Currently, clinicians use Entrada Secure Messaging to collaborate with members of their patients' coordinated care teams. Entrada users can now send secure message conversations directly into the EHR, transforming an informal conversation into a documented, formal consult that helps better tell the complete and accurate patient story. The conversation is then returned directly to the corresponding patient's chart to be included as part of the clinical documentation.
Caregivers also have the ability to better manage their documentation workflow directly from the mobile device or from the Entrada Cloud Portal. Clinicians can track where every dictation is throughout the editing process as well as see when the documentation has delivered back into the EHR encounter template, enabling the caregivers and support staff to be proactive in accelerating their billing cycle.
With Entrada, users can send patient images- of a wound or rash, for example - directly to the EHR for inclusion into the patient record. With this release, Entrada has expanded this capability to all caregivers collaborating on patient care, such as a medical assistant who wishes to document the progress of a wound or a home health nurse who is taking an image of a skin abrasion. Entrada has also redesigned the user experience for the Android OS with a new user interface that is instantly familiar to Android users and more closely aligns with the Entrada Mobile experience.
Entrada's new and existing features enable caregivers to shorten their revenue cycle by accelerating documentation and communication, not only improving clinical workflow but also boosting provider satisfaction with their existing technology systems. By streamlining EHR compliance and complementing clinical workflow, Entrada is an essential lifeline for caregivers and staff across the country with an easy-to-use mobile solution that streamlines the capture of clinical documentation and promotes collaboration across the coordinated care team.
Entrada's newest release is available in the App Store for iOS devices and Play Store for Android. A free software update is available for devices running iOS 8 or later and Android 4.4 KitKat or later. Some features may not be available for all EHR integrations.
About Entrada
Entrada is a leading provider of integrated mobile solutions that improve healthcare efficiencies and outcomes. Entrada's commitment is to protect physician and staff productivity for the next generation of patient care. For more information, please visit http://www.EntradaHealth.com.