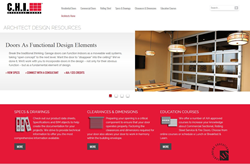 We wanted to design a site that, beginning with the main page, would provide the best user-experience and the up-to-date product information that architects need
Arthur, IL (PRWEB) May 25, 2016
C.H.I. Overhead Doors recently released a new Architect Design Resources website. This site delivers new tools and easy access to product specifications, data, and drawings in multiple formats, including PDF, CAD, or BIM.
"We wanted to design a site that, beginning with the main page, would provide the best user-experience and the up-to-date product information that architects need," said Joe Clark, Architect Consultant for C.H.I.
Some new features of the website include:

Clearances and Dimensions configurator, which allows customers to easily request a drawing with critical dimensions needed for their specific project.
AIA (American Institute of Architects) Continuing Education courses offered by C.H.I. Overhead Doors
Ability to connect with a C.H.I. Architectural Consultants for specific project design support
Visit http://www.chiohd.com/architects to see this new website from C.H.I. Overhead Doors.
ABOUT C.H.I. OVERHEAD DOORS
C.H.I. Overhead Doors is a leading manufacturer of high-quality residential and commercial sectional and rolling steel doors. Started in 1981, C.H.I. has risen to become an industry leader in innovation, quality, and customer service. Hand-made craftsmanship and computer-aided precision join together to make C.H.I. Overhead Doors "The Door to Quality."