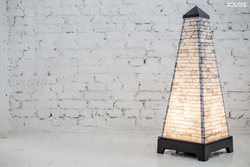 In addition to delivering music in high-definition sound that truly envelopes a room, the synchronized light system creates an ambiance unlike any other personal sound system on the market today
New York (PRWEB) May 24, 2016
Crowdfunding has taken off on Kickstarter for XOUNTS UP, the world's only sound system that combines wrap-around, 360-degree stereo sound with atmospheric lighting to create the most immersive experience for the next generation of music lovers. Surpassing its crowdfunding goal just a few hours after launch, XOUNTS UP is on pace to break records.
XOUNTS UP is an all-in-one sound system that delivers perfect stereo surround-sound combined with atmospheric light, personalized design and easy wireless multimedia networking.
"It really represents the next evolution in sound for this generation, or for anyone who really enjoys their music and wants to experience it on a whole new level," said XOUNTS UP co-founder Oliver Richter. "In addition to delivering music in high-definition sound that truly envelopes a room, the synchronized light system creates an ambiance unlike any other personal sound system on the market today."
Simple to set up, XOUNTS UP has an eclectic design that conceals cables and it can be customized for any room to create an integrated, mood-setting sound and light system. XOUNTS UP can also be easily controlled from any smartphone and connected via Bluetooth, dongles, Apple Airplay, SONOS and other existing sound systems – in addition to lighting components like Philips HUE or LIFX.
With a top-quality subwoofer for the lower sounds, and a complete-unit vibration for the middle and higher frequencies, XOUNTS UP resonates to fill an entire room with a wall of music and light.
"It's also a portable system, so you can take it to parties and special events, and even set it up at the office to create a special work environment for your employees and clients," Richter said. "You can also play with the variations of light and sound to create a certain mood, so XOUNTS UP offers a creative experience for users, as well."
With its optional internal battery pack, XOUNTS UP can also play up to nine hours in remote settings where electricity isn't available.
The basic XOUNTS UP is now available for pre-order on kickstarter at discounted pricing of $269 – a savings of more than $150 of the regular retail price. To pre-order XOUNTS UP visit: http://www.xounts.com/kickstarter2.
The XOUNTS concept has already received numerous test recommendations and awards. To see reviews please visit: http://www.xounts.com/ambassador/
About XOUNTS
Frank Otto and Oliver Richter are the passionate initiators and creators of XOUNTS UP. For more than 20 years, the two have been working together prior to jointly launching XOUNTS seven years ago to create the best for all music lovers and the most flexible sound system in the world. Their products, XOUNTS and its successor, XOUNTS UP, are regarded as cutting-edge digital musical products and have won numerous test awards and prizes. For more information, visit http://www.xounts.com.