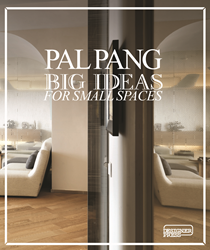 Como, Italy (PRWEB) June 21, 2016
Today, Pal Pang, a prominent A' Design Award winner has released his newest book on interior design. "Big Ideas for Small Spaces" is a hardcover book on interior design that bridges western and eastern decoration styles. The interior design book features award winning luxury interiors that blend eastern culture with western values with an emphasis on functionality, modernity and space usage.
"Big Ideas for Small Spaces" is a great source of reference for both the experienced interior designers as well as casual decorators who are looking for an inspiration for interior design and decoration. The book covers many examples of fine interior design work that helps transform ordinary spaces into attractive and comfortable living habitats. The limited edition book covers over ten interior design projects and is full of illustrations and photographs that communicate the value and ideas behind the designed spaces. The book is multilingual with English and Italian texts included.
Regarding "Big Ideas for Small Spaces", Ettore Giordano, a famous award-winning Italian designer, said "While flipping the pages of the book, you can quickly realize the quality of interiors presented: Interior spaces designed by Pal Pang beautifully reflect the essence of luxury, comfort and prestige that are sought by contemporary audiences. There is no doubt that the smart choices made by Pal Pang added tremendous value to the spaces, making them more functional, comfortable and elegant."
Linda Barker, a prominent interior designer from UK, noted: "These are big ideas, from a talented man – someone who knows all there is to know about small spaces. Pal Pang makes great design seems effortless, but that is far from the whole story. These spaces are difficult to manage – so when they appear this sophisticated, calm and elegant, you know a real interior designer has been at work."
"Big Ideas for Small Spaces" features many different interior design projects each covering an interior design issue that needs a special attention. The book is ideal for people who are looking for ideas and inspirations to decorate and restyle smaller spaces in the best way possible. There are ideas about functionality, color choices, use of space, furniture, lighting and choice of materials.
About Pal Pang
Pal Pang is an A' Design Award Winner for Excellence in Interior Design, his interior design works has been featured at many publications for their excellent use of space. Pal Pang holds an honorary degree of design at University of Creative Arts, UK and is also the chief designer at Another Design International. Another Design International creates bespoke interior design projects for luxury spaces and real estate developments.
A' Design Award
A' Design Award is an international design accolade that highlights the very best designers, artists and architects from across the globe. Every year, tens of thousands designers worldwide compete for fame, prestige and publicity. The ultimate aim of the A' Design Award is to create a global understanding and appreciation of good design by featuring and promoting good design works worldwide. Learn more at DesignAward.com