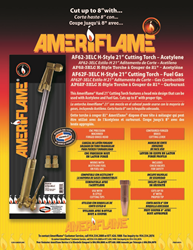 Designed and Tested in the U.S.A. by Uniweld Products
(PRWEB) May 31, 2016
Introducing the newest line of Ameriflame/Uniweld of highest quality, economically priced, heavy duty cutting torches to load into your arsenal of high heat flame tools.
These tested, head-mix and tube-mix cutting torches offer the best quality for the best price. Ameriflame/Uniweld V-Style and H-Style torches are designed for heavy duty use. Positive, easy and smooth gas delivery to the cutting tip makes for ease of operation.
These cutting torches can be used with oxygen and acetylene or any other fuel gas on the market. The V-Style, tube-mix torch is designed for all fuel gases. The H-Style, head-mix torch has a choice of two options for Acetylene or fuel gas, just order the right number for the right gas.
The Ameriflame line is proven to be the best quality of any imports in the U.S. and the only product of its kind on the market that is designed and tested in U.S. Economy and quality are seldom found in the same sentence, but Uniweld's track record is proof of this statement.
All Ameriflame torches come standard with check valves; flashback arrestors are available upon request. These fine jewels of torches can be found at any of our stocking distributors and warehouses, worldwide.
V-Style AF900C 23" Acetylene/All Fuel Gas
H-Style AF62-3ELC 21" Acetylene
H-Style AF62F-3ELC 21" Propane, All Fuel Gas
Uniweld Products, Inc. has manufactured quality welding and cutting equipment at its factory located in Fort Lauderdale, Florida U.S.A. since 1949. Refrigeration manifolds & hoses, vacuum pumps, tubing tools, nitrogen kits, cutting torches, welding handles, cutting attachments, pressure regulators, pressure gauges, cutting tips and welding tips are among the products manufactured at Uniweld's factory in Fort Lauderdale. For quality jobs that you handle, take Uniweld's Quality Tools That Go To Work With You®!