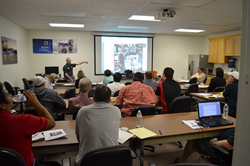 Hayward, CA (PRWEB) May 25, 2016
Western State Design has announced two Dexter Service Schools to be held next month in Fresno, Calif. and Portland, Ore. where owners and operators can learn the best practices for maintaining and optimizing their Dexter coin-operated laundry equipment. These schools will also feature product displays and special event-day pricing on equipment.
By educating Dexter Laundry Equipment owners and operators about custom features to maximize machine performance and improve customer experience, Western State Design's Service School will help each coin-op operator identify multiple opportunities to increase revenue. In addition, Western State Design staff will demonstrate how to cut energy and utility costs and improve overall profitability by using Dexter equipment.
The dates and locations for Western State Design's summer 2016 Dexter Service Schools are:
Tuesday, June 21 – near Fresno Yosemite Int'l Airport
Ramada Fresno Airport
5090 E. Clinton Way
Fresno, CA 93727-1506
Hours: 10 am – 4 pm
Thursday, June 23 – near Portland Int'l Airport
Courtyard Marriott Hotel
11550 NE Airport Way
Portland, OR 97220
Hours: 9 am – 3 pm
Each training includes a complimentary lunch.
To register for a Western State Design Dexter Service School, call 1-800-633-7153 ext. 103 or use our online form on the Western State Design website.
-------------
About Western State Design
With more than 40 years of experience as a premier, full-service distributor to the coin-op laundry industry, Western State Design has grown to become one of the largest coin laundry equipment distributors in the world. Western State Design is proud to be a Dexter Authorized Distributor, and has been recognized as the No. 1 Dexter Distributor Worldwide since 2009. Dexter Laundry, located in Fairfield, Iowa, is an employee owned leading manufacturer of commercial laundry equipment. All equipment is manufactured in Iowa.