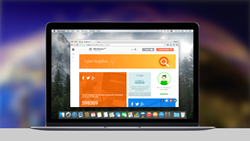 Our customers and Mac users in general don't even know what kind of threats they may face, and at the same time many of them don't even realise what sort of interesting information they may discover
(PRWEB) May 25, 2016
As a part of the recently launched Security Research Center with Chris Vickery, MacKeeper launches a real-time cyber analytics service, which reflects the numbers of actual status of global cyber threats dedicated to the Mac operating system. The project allows Mac users to see narrowcasting information that shows what threats users may face, how many Mac users clean their machines or use anti-malware protection. The Cyber Analytics service combines the most important global data that interests most Internet users. The service provides real-time figures such as the number of infected websites worldwide, the number of Macs with virus-scanned systems worldwide, or the number of Macs with removed duplicates so far this year.
The Security Research Center was launched in early 2016 under the direction of the well known security researcher Chris Vickery. Vickery helps MacKeeper with security auditing, discovering potential threats, and advises the best solutions against future vulnerabilities. Currently Chris maintains his own column "Security Watch with Chris Vickery" with original stories of exclusive new discoveries. Now the MacKeeper Security Research Center combines both the Security Watch Column and Cyber Analytics project. They will complement each other and inform users about potential threats and breaking discoveries.
"MacKeeper is the software and service provider for millions of Mac OS users worldwide. As a software vendor, we have a huge amount of valuable and rare meta data that we can use for good. Our customers and Mac users in general don't even know what kind of threats they may face, and at the same time many of them don't even realise what sort of interesting information they may discover. That is why we believe that our experience and knowledge together with third-party statistics will provide our users with an understanding that cyber world is as precarious as it is awesome," says Alex Kernishniuk, CEO of MacKeeper.
MacKeeper is open to cyber research partnerships and ready to provide unique cyber-data that is based on our own MacKeeper studies for independent security researchers, security journalists, and individuals. To receive this data or more information please contact the MacKeeper PR team for the latest stats either by email security@kromtech.com or via online form at the official MacKeeper website.
Visit MacKeeper Cyber Analytics project online: https://mackeeper.com/blog/cyber-analytics