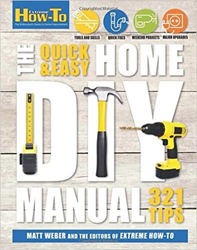 For years the aim of Extreme How-To has been to demystify professional-grade projects for the do-it-yourselfer, to equip our readers with the know-how to "build it yourself, and build it better."
Birmingham, Ala. (PRWEB) May 26, 2016
Extreme How-To has recently released The Quick and Easy Home DIY Manual, which provides various do-it-yourself projects for any handyman. Whether it is repairing a leaky shower faucet or building a frame for a flat-screen TV, this ultimate DIY repair manual serves as a simplified guide for do-it-yourselfers.
Not only does The Quick and Easy Home DIY Manual offer neat, thorough instructions for at-home projects, but also includes dynamic graphics for any first time homeowner and the ultimate household-handyman. Find easy ways to build a DIY toolbox, outfit a workspace and gain the pro skills that simplify even the most challenging projects.
With over 321 handy tips, Matt Weber and the editors of Extreme How-To constructed a timeless manual for all things home repair. From quick fixes to construction and everything in between, this manual serves as a perfect gift for Father's Day.
The Quick and Easy Home DIY Manual is available at Books-A-Million, Barnes and Noble, Target or simply order online through Amazon.com.