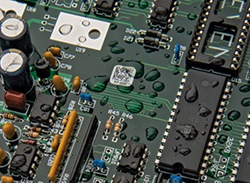 Polyonics high resolution materials include high gloss top coats for greater ink contact and adhesion plus higher whiteness values for increased contrast and verification accuracy.
Westmoreland, NH (PRWEB) June 02, 2016
Polyonics high-gloss thermal transfer printable label materials are designed for printing high resolution 600 dpi barcode labels. The coatings on the XF-528 (1mil) and XF-529 (2mil) label materials provide up to 25% higher gloss values than the competition for increased smoothness, greater ink contact and improved adhesion. In addition, the coatings have higher whiteness values that help produce higher contrast barcodes with improved verification accuracy in less than ideal lighting conditions.
PCB makers can now take full advantage of the latest thermal transfer ribbon technologies to precisely print 600 dpi barcodes with higher data densities, more uniform cells and sharper edges. This also allows them to use smaller labels with smaller barcodes to accurately track their products through all phases of manufacturing.
High Data Density Plus High Durability
As PCBs get smaller there is less room for tracking labels. Thus PCB manufacturers require increasingly smaller tracking labels with smaller barcodes. The amount of data required in the barcodes continues to increase while the need for labels and barcodes to survive throughout the entire harsh manufacturing process has never been higher.
Polyonics high resolution label materials include polyimide films that remain dimensionally stable at high temperatures. The high gloss coatings are formulated to resist the harshest of fluxes and not soften or smear during wave solder, reflow and high pressure washes while the aggressive adhesives are designed to remain firmly affixed in the harshest of fluxes. Polyonics materials now allow manufacturers to produce smaller labels with higher data densities that will survive the entire PCB manufacturing process.
The following Polyonics high resolution label materials are recognized by UL 969 and are REACH and RoHS compliant:
XF-528, shown at right, is a 1mil high temperature polyimide material with a high-gloss white thermal transfer printable top coat, 1mil acrylic pressure sensitive adhesive (PSA) and liner.
XF-529 is a 2mil high temperature polyimide material with a high-gloss white thermal transfer printable top coat, 1.5mil acrylic PSA and liner.
Polyonics at a Glance
Polyonics manufactures high performance coated films that withstand high temperatures and harsh environments while protecting products from ESD and/or fire. The thermal transfer printable label and tag materials, engineered tapes, laser markable label materials and printable flexible substrates are used by converters and OEMs worldwide.