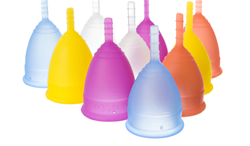 Lunette is changing the way women flow around the world!
San Diego, CA (PRWEB) May 25, 2016
There was a time when tampons and pads were the only options for women for period protection. But now, more women are going with the flow and turning to menstrual cups, like Lunette. To make that time of the month less of a pain and more like a party, Lunette is introducing their new anthem in this catchy video!
It's easy to see why Lunette is so popular. Lunette cups are eco-friendly, comfortable, convenient, cost effective and changing the menstrual hygiene industry one colorful cup at a time!
Here are even more reasons:
-Made of soft, medical-grade silicone
-Comes in two sizes (Models 1 and 2)
-Designed for women of all ages and sizes
-Flexible and durable
-Odorless
-Can hold more liquid than a tampon
-Can last up to 12 hours
-Easy to clean and disinfect
-Manufactured in Finland in a wind-powered facility
-Less waste- even the entire Lunette cup packaging is biodegradable
-A one-time purchase that will last you years
Lunette is the modern lady's best kept secret! For more information, check out http://www.lunette.com.