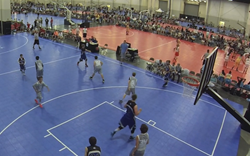 Snapsports is thrilled to be chosen, once again, as the Official Court of the world's largest AAU Tournament.
Reno, Nevada (PRWEB) May 26, 2016
Thousands of athletes and spectators will come together in sunny Reno, Nevada this Memorial Day weekend for the 15th Annual Reno Memorial Day Tournament which will take place at the Reno Sparks Convention Center May 28-30, 2016. The 'Jam On It' Reno Memorial Day Tournament will host over 1000 teams, holding its reputation as the largest AAU basketball Tournament in the world. Throughout the three day tournament, athletes, coaches, and AAU representatives will be using SnapSports® tournament basketball courts. Having been chosen for its unmatched durability, ease of installation, high performance and unmatched player safety, SnapSports is proud to continue its established partnership with 'Jam On It' as the official tournament flooring provider.
"SnapSports is thrilled to be chosen, once again, as the Official Court of the world's largest AAU tournament. It is yet another testament to our industry-leading performance and patented safe play technology only found in genuine SnapSports athletic surfaces. " Jorgen Moller – CEO, SnapSports Athletic Surfaces
During the Tournament, both qualifying and championship play will take place on over 75 courts featuring the multi-patented SnapSports BounceBack® ShockTower® and http://www.snapsports.com/athletic-surface-revolution.php ShockTower® surfacing . SnapSports' athletic flooring with ShockTower® technology is the ONLY modular sports surfacing featuring actual shock absorbers built into the flooring structure - a multi-patented "resilient shock" technology that was designed with superior performance and player safety in mind. With over 16 individual shocks per square foot, ShockTower® is the OneCourt® that stands above all others.
"With athletes of all ages competing in several games per day, it's the responsibility of AAU to provide the safest surface during play. SnapSports Indoor ShockTower surfaces guarantee better joint protection for our athletes, not to mention providing our tournaments with easy and fast installation." – Matt Williams, Vice President AAU, President 'Jam On It'
Click here to view some great AAU Basketball Action!
SnapSports manufactures 24/7 in their 180,000 square foot ISO 9001:2008 Quality certified facility in Salt Lake City, Utah. SnapSports is the Official Court of AAU Basketball Jam On it, AAU All Under one Roof, The Big South, The United States Futsal Federation, NBA All-Star Centre Court, NBA Nation, 2015 NBA House, NBA 3X and USA Team Handball. SnapSports is an official FIBA Technical Partner and has been a proud partner of The Special Olympics, The National Veterans Wheelchair Games, The Volleyball Festival, Gus Macker 3X3, The Vanilla Ice Project, World Police & Fire Games and The National Collegiate Roller Hockey Championship to name a few. SnapSports surfaces are proudly made in the USA and played on around the world.