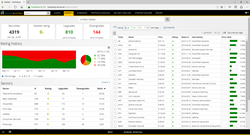 Trendrating version 1.3 reaffirms our commitment to continually improving our solution based on the needs and requirements of our user community
Boston and London (PRWEB) May 25, 2016
Trendrating, the leading provider of momentum analytics to fund managers worldwide, has announced today the release of the Trendrating Momentum Analytics Platform 1.3 which enables fund managers to more easily identify changes in momentum ratings and better manage portfolio risk.
The Trendrating Smart Momentum Model is based on breakthrough research which can identify trends early and adapt to market volatility to provide stability and greater profitability for long-term investors. The most recent software version, Trendrating 1.3, makes importing portfolio holdings from Excel fast and easy. Fund managers can now run performance comparisons for individual holdings in a portfolio and immediately identify under performing stocks and ETFs with negative momentum, for more effective risk control. The updated version also includes a graphical feature to calculate net alpha generation on personalized momentum strategies and generate 15 years of back tested results in seconds. An enriched set of strategy building variables has also been added to support full personalization.
"Trendrating version 1.3 reaffirms our commitment to continually improving our solution based on the needs and requirements of our user community", said Trendrating founder and CEO Rocco Pellegrinelli. "When customers invest in Trendrating as a valuable tool in their decision support process, they see a return on that investment as we continue to add to the product's functionality through regular updates."
Founded in 2013, Trendrating provides a range of tools designed to maximize investment performance and improve risk control. Used by institutional fund managers across Europe, the U.S. and Asia, Trendrating helps them improve their investment decision making process.
Trendrating recently announced a collaboration agreement with FTSE Russell to develop innovative new momentum indexes.
About Trendrating:
Trendrating is a global provider of best in class momentum models, analytics and indices. Trendrating's "Smart Momentum" model is faster and more accurate at capturing trends and reversals than other commercially available products that rely on outdated research and technology.
Trendrating's intuitive technology platform is used by over 100 institutional fund managers to systematically run multiple portfolio assessments and adjust exposure in order to capture more trends. At a time when an increasing number of fund managers are implementing more sophisticated strategies, such as smart beta, Trendrating provides tools to improve performance and lower risk.