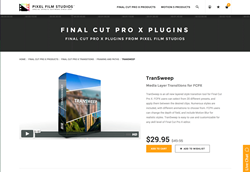 This new layered style transition tool will keep a consistent flow to your project while adding interesting visuals in the process
Aliso Viejo, California (PRWEB) May 26, 2016
Development Team of Pixel Film Studios Announced The Release of TranSweep, a Media Layer Transition Plugin for FCPX.
"This new layered style transition tool will keep a consistent flow to your project while adding interesting visuals in the process," said Christina Austion - CEO of Pixel Film Studios.
TranSweep is an all new layered style transition tool for Final Cut Pro X. FCPX users can select from 20 different presets, and apply them between the desired clips. Numerous styles are included, with different animations to choose from. FCPX users can change the depth of field, and include Motion Blur for realistic styles. TranSweep is easy to use and customizable for any skill level of Final Cut Pro X editor.
TranSweep includes 20 different style presets with multiple customization options. FCPX users can modify the size and direction of each layered panel, along with change the text and media within each preset. Horizontal and vertical animations are included, with interchangeable panel angles.
Each individual TranSweep preset includes options for Depth Of Field, and options for realistic Motion Blur. Final Cut Pro X editors can easily adjust the Camera blur for realistic movements and stylistic effects with just a few slider adjustments.
TranSweep includes fully editable and adjustable Titles, allowing editors to convey messages and subjects with each transition. TranSweep presets also includes drop zones, allowing the placement of logos or stylistic overlays for each individual panel that passes by.
TranSweep is a Transition tool designed specially for Final Cut Pro X. FCPX users simply select the style they want, and apply it between clips. The transitions can be stretched to be the desired length, and customized using the on-screen controls.
Established in 2006, Aliso Viejo, California-based Pixel Film Studios is an innovative developer of visual effects tools for the post-production and broadcast community. Their products are integrated with popular non-linear editing and compositing products from Apple FCPX. Apple, the Apple logo, Mac OS X, and Macintosh are registered trademarks of Apple Inc. in the U.S. and/or other countries. All other trademarks and trade names are the property of their respective owners.