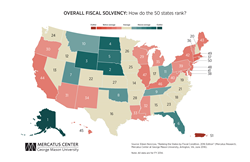 "You shouldn't have to be a budget expert to know where your state stands financially." --Economist Eileen Norcross
Arlington, VA (PRWEB) June 01, 2016
The latest edition of the Mercatus Center at George Mason University's State Fiscal Rankings, released today, gives the most complete snapshot available of the financial picture in all 50 states and Puerto Rico.
"You shouldn't have to be a budget expert to know where your state stands financially," said study author and economist Eileen Norcross.
"These rankings give everyone that chance by putting complicated annual financial reports into context, while still allowing experts to take a deeper look at the numbers."
Every state must produce an audited financial report (known as a CAFR) each year, but few people have the experience to use them. The study makes that information understandable for everyone—creating both an early warning system to identify states' future problems, and a tool to help struggling states forge a path forward.
The rankings:
1. Alaska
2. Nebraska
3. Wyoming
4. North Dakota
5. South Dakota
6. Florida
7. Utah
8. Oklahoma
9. Tennessee
10. Montana
11. Ohio
12. Idaho
13. Nevada
14. Missouri
15. Alabama
16. Texas
17. Indiana
18. South Carolina
19. Virginia
20. New Hampshire
21. North Carolina
22. Colorado
23. Georgia
24. Washington
25. Iowa
26. Minnesota
27. Kansas
28. Arkansas
29. Wisconsin
30. Oregon
31. Arizona
32. Mississippi
33. Louisiana
34. New Mexico
35. Michigan
36. Vermont
37. Rhode Island
38. Delware
39. Pennsylvania
40. West Virginia
41. Maryland
42. New York
43. Maine
44. California
45. Hawaii
46. Kentucky
47. Illinois
48. New Jersey
49. Massachusetts
50. Connecticut
51. Puerto Rico
This year's edition includes Puerto Rico, helping to show the scale of the territory's financial crisis.
States with abundant natural resources rank highly—but several are relying too heavily on those resources.
States that rank near the bottom—including some of America's highest-income states—generally have pension problems, unsustainable debt, and structural issues that make balancing budgets difficult.
A state's ranking consists of its scores in the following categories:
Cash Solvency: Does your state have enough cash to cover its short-term bills?
Budget Solvency: Is your state taking in enough revenue to cover its fiscal year spending?
Long-Run Solvency: Can your state meet its long-term spending commitments? Is it prepared for economic shocks or other risks?
Service-Level Solvency: How much fiscal "slack" does your state have to increase spending if residents demand more services?
Trust Fund Solvency: How much in debt, unfunded pension liabilities, or health care obligations does your state have?
For media inquiries, please contact Kyle Precourt at 703-993-8196 or kprecourt(at)mercatus.gmu.edu.
To read the study or individual analysis for states and Puerto Rico, visit http://mercatus.org/statefiscalrankings.