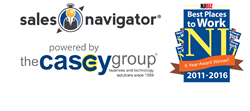 Most importantly for our clients, our culture reinforces a customer first mindset that produces consistently outstanding performance for them. Richard Casey, CEO
Parsippany, NJ (PRWEB) June 02, 2016
In the world of sports when a team wins championships for three or more consecutive years, they are called a dynasty... think New York Yankees, Boston Celtics, and Los Angeles Lakers. So what do you call a company that has been named a Best Place to Work in NJ for Six Consecutive years? We call it The Casey Group, a privately held company that has been providing IT solutions to all size businesses including Fortune 500 companies for over 27 years.
Richard Casey, the company's Chief Executive Officer and Chairman offered the following comments about the award, "While I am extremely proud that The Casey Group has been named a Best Place to Work in NJ for 2016, it is even more gratifying to be a winner for six consecutive years because it demonstrates that we have created an enduring company culture that fosters teamwork and innovation. Most importantly for our clients, our culture reinforces a customer first mindset that produces consistently outstanding performance for them."
"Our Company strength lies within our technology professionals who have the depth and breadth of education and experience to advise, recommend, architect, implement and manage projects of all sizes, complexity, and duration," added Casey.
The latest innovation from The Casey Group is the award winning Sales Navigator which is the most comprehensive mobility and sales planing tool for iOS. Sales Navigator is available at the AppStore, the Salesforce AppExchange, and the Oracle Cloud Marketplace.
About The Casey Group
For over 27 years, The Casey Group has been specializing in helping companies of all sizes including the Fortune 500 to use technology more effectively. The company has deep enterprise experience on a variety of technology platforms/areas including IBM Power Systems, Mainframes, Java/JEE, legacy modernization, Microsoft, Amazon Cloud (AWS), CRM systems such as Salesforce and Oracle, Apple iOS and more. The range of services include application development/management, systems integration, production support, software development, managed IT services, and mobility and cloud services.
The Casey Group has an award winning culture and customer first mindset as evidenced by its being named a Best Place to Work in NJ for six consecutive years (2011-2016). Sales Navigator, the company's geo centric sales tool, has also received multiple awards at events such as CES, Silicon Valley Business Awards, and Top 5 Tabby Awards for Sales and Business productivity.
The Casey Group's key partnerships include being a Microsoft Partner, IBM Partner, Salesforce ISV partner, and Oracle Gold Partner. The company is a Business Cabinet member of the Morris County Chamber of Commerce.