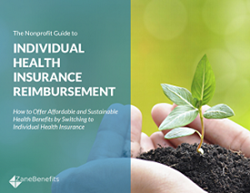 Salt Lake City, Utah (PRWEB) May 25, 2016
Zane Benefits, the leader in individual health insurance reimbursement for small businesses, announced today the publication of a new eBook, "The Nonprofit Guide to Individual Health Insurance Reimbursement." The guide helps small nonprofits switch to individual health insurance reimbursement to offer affordable, sustainable health benefits.
According to Zane Benefits, small nonprofits face unique challenges in hiring and retaining employees. With limited resources, leadership teams must be strategic about how to allocate compensation and benefit dollars.
When it comes to health benefits, controlling costs has become a major challenge. To gain control, nonprofits are switching from group health insurance to individual health insurance reimbursement.
The new eBook outlines how small nonprofits can save 20 to 60 percent on healthcare costs by reimbursing employees for individual health insurance.
The 16-page eBook is available for free download at the zanebenefits.com website and covers the following topics:
-Why reimbursing employees for individual health insurance is cost-effective
-The 3 new advantages of individual health insurance
-2 ways to reimburse employees
-How to transition employees to individual health insurance
About Zane Benefits, Inc.
Zane Benefits was founded in 2006 with a mission to consumerize employee benefits for small business. We have a vision for the world where employee benefits are actually employee benefits rather than employer benefits. "Consumerize" is the word we use to describe that vision. When small businesses offer Zane Benefits instead of traditional benefits, they save time and money by empowering employees with tax-free dollars. Using our online software platform (PeopleKeep®), small businesses help employees purchase their own benefits with real dollar contributions.