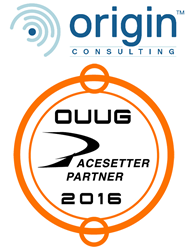 Origin Consulting has proven to be an invaluable business partner in support of SMECO's Oracle Utilities suite of business systems. Origin's team is the best in the energy industry!
Las Vegas, Nevada (PRWEB) June 02, 2016
As an Oracle Platinum partner and a long-time supporter of this independent utility users group, Origin was awarded the 2016 OUUG Partner Pacesetter Award for outstanding contributions made to both their utility customers' success and to this "for-users, by-users" grassroots industry event. This inaugural award honors those partners who demonstrate innovation and unparalleled success in the deployment of Oracle enterprise applications as nominated and voted upon by OUUG delegates worldwide.
"This Pacesetter designation by our customers and peers truly reaffirms our company's vision and commitment to nothing less than beyond excellence in the utility enterprise consulting space," commented Pam Glanvill, longtime utility veteran and President, Origin Consulting. "This award will be celebrated by our entire team of esteemed Origin professionals, who are ultimately responsible for routinely delighting our clients."
Founded in 2006 by CEO Mark Black, Origin specializes in implementation, integration and upgrade services for the Oracle Utilities product suite, including Customer Care & Billing (CC&B), Customer Self Service (OUCSS), Mobile Workforce Management (MWM), Meter Data Management (MDM), Smart Grid Gateway (SGG), Application Framework (OUAF) and Operational Device Management (ODM).
"As the largest energy utility in the state of Alaska, ENSTAR has the pleasure of dealing with a number of consultants. The bar, however, will forever be set based off of our excellent experience and ongoing relationship with Origin, Pam Glanvill and her team," said John Sims, vice president Corporate Resources & Business Development, ENSTAR Natural Gas Company. "Truly understanding what the customer needs, and how they plan to implement the customer's vision, is imperative to building a strong partnership and Origin has mastered this key attribute and developed it into a core competency."
Joe Trentacosta, senior vice president and CIO of Southern Maryland Electric Cooperative added to the accolades. "Origin has proven to be an invaluable business partner for SMECO in support of our Oracle suite of business systems. They did an outstanding job as our implementation partner for a highly complex deployment, bringing the project in both on time and under budget. The resources they bring to bear on all our engagements are dedicated, customer-focused and extremely knowledgeable on Oracle technologies…the best in the energy industry!"
About Origin Consulting
As a Platinum member of the Oracle PartnerNetwork (OPN), Origin Consulting, LLC provides implementation services and solutions for Oracle Utilities products to the utilities industry. Our team of 100+ professionals has extensive experience in implementing and enhancing utility solutions utilizing various approaches, such as agile, phased and big bang. We offer solutions for full or partial product replacements, upgrades and introduction of new product features. Our goal is to partner with utilities to gain operating efficiencies across their business, from financial assurance and regulatory issues to improved customer service and satisfaction. Our extensive implementation experience, deep industry knowledge and professional consultants will help your project implementation initiatives be successful. Our resources have an average of 10 years of hands-on experience implementing enterprise solutions in the utility industry. Visit http://www.originconsults.com to learn about our service and solution offerings. Oracle and its products are registered trademarks of Oracle and/or its affiliates.
About OUUG
Founded in 2009 by Oracle utility customers, the Oracle Utilities Users Group (OUUG) is a "for-users, by users" grassroots professional organization that is dedicated to bringing together client utilities, solution partners and Oracle staff to leverage and share the utility product brain trust within the user community-at-large. OUUG product-specific user groups, such as CC&B, WAM, MDM, etc., host monthly community conference calls as well as collaborate at the annual OUUG users group conference, which is separate from Oracle corporate and fully funded by customers, solution partners & industry media. To learn more and join in, visit http://www.OUUG.org