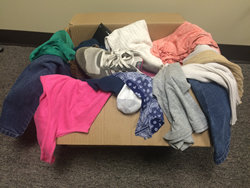 Elkridge, Maryland (PRWEB) May 24, 2016
The Atlantic hurricane season officially begins June 1, but already forecasters are predicting between 6-8 hurricanes and as many as 12-14 named storms. As the season begins, Planet Aid wants to remind donors to give wisely when there is an emergency.
As described in a recent CBS's Sunday Morning report "When Disaster Relief Brings Anything But Relief," Americans are kind and generous and want to help those in need. However, donations during disasters can overwhelm emergency responders and hamper rather than help relief efforts. The problem is that many of the items that people donate aren't needed and the organizations trying to meet the needs of those impacted are weighed down by tons of unnecessary goods.
Donating an article of clothing to help another in need is a kind and beautiful gesture. However, even after a disaster, clothing is rarely in short supply. The reality is that there is an incredible excess of unwanted clothing in the United States. That is why so much of it ends up in landfills. It is also why Planet Aid works hard to provide a solution that works, one that helps the environment while also effectively delivering support to those in need.
During the Hurricane Sandy relief operation, Planet Aid donated to help those in need and coordinated with relief organizations on meeting local needs. But instead of clothing, we were called on to donate water, which we delivered by the truckload to places where people's drinking supplies had been contaminated or otherwise didn't function.
Planet Aid also received calls from relief organizations to help them remove clothing donations. We removed tons of textiles that they received that they could never use. Lacking other storage options, one organization filled a nearby empty swimming pool with unwanted donations.
The hope is that none of the predicted storms makes landfall, but if they do remember to give smartly.
About Planet Aid
Planet Aid is a U.S. 501 (c)(3) nonprofit and is registered with USAID as a private voluntary organization. It collects and recycles used clothing and shoes as part of its environmental mission. The net proceeds from its 21-state recycling operation help to support projects aimed at eliminating poverty. Since its inception in 1997, Planet Aid has provided more than $100 million to support projects on three continents. Planet Aid supports programs in education, teacher training, nutrition and agricultural and economic development.