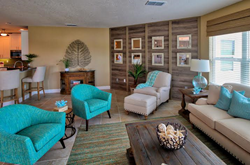 "We're looking forward to bringing our residents together and creating some great social groups and community events." - Sales Professional Barb Eberhart
Bradenton, Fla. (PRWEB) May 26, 2016
Recently crowned Manatee-Sarasota's 2016 Parade of Homes Overall Winner in multiple categories, Palma Sola Bay Club continues to thrive in their most successful year. By the end of this summer, the condominium community will have more than doubled the number of homeowners residing in the development's condominium units since 2015. The end of this year is expected to culminate in a tripled number of residents living within the spacious gated property.
"This has been an amazing year for us," says new home sales professional, Barb Eberhart. "We were completely honored to be part of this year's Parade of Homes and take home so many awards. We've experienced big growth. Right now, we're looking forward to bringing our residents together and creating some great social groups and community events. We have some really great families here."
In the meantime, current homeowners can enjoy a unique set of recreational offerings such as a two-story clubhouse for families and neighbors to gather and play board games or billiards, a putting green, bocce ball court, grilling pavilions, kayak launch and more. They can also prepare for the community's first social event, set to occur the week of July Fourth. "We're kicking off our calendar with a big cookout," Eberhart says. "We're also in the process of gathering activity interest so that we can cater our next events to our specific families. Right now, spurring friendships, connections and a sense of community is our greatest goal. It's an exciting time to be here."
About Palma Sola Bay Club
Palma Sola Bay Club is a condominium community in Bradenton, Fla., located just minutes from the beach, downtown Bradenton, Fort DeSoto National Park and Robinson Preserve. Developed by Prospect Real Estate Group, this exclusive, gated community, when completed, will consist of 23 four-story buildings, each including nine residences, underground parking and built-in elevators.
The condominium-style residences, many with sweeping views of beautiful Palma Sola Bay, feature a unique blend of Key West and Florida coastal-inspired architecture, along with interior that includes high ceilings and abundant natural light. The two and three-bedroom condos are 1,657 and 1,857 square feet with prices starting from the low $300,000's. Visit http://www.PalmaSolaBayClub.com or call 866-217-2770 for more information.