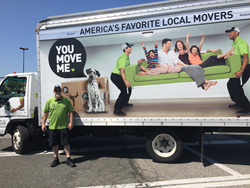 "This is a fantastic event that not only helps local families get the supplies they need – we also have a lot of fun!"
Philadelphia, Pennsylvania (PRWEB) May 26, 2016
Metroplex May Day Helps Kids in Need at Third Annual Spring Clothing Collection
The Goldenberg Group's People Helping People Foundation and Cradles to Crayons, together with You Move Me and a number of generous local vendors, invited area schools and members of the public to do some spring closet cleaning and help a local child in need on May 21st and 22nd.
Metroplex May Day accepted donations and offered family friendly activities, while collecting new and gently used clothing, shoes, books, baby items and school supplies for children from birth through age 12 living in homeless or low-income situations in the Greater Philadelphia Area. The donations generated will help approximately 2,184 children in need.
"When we were approached by the Goldenberg Group to help transport donations, we were happy to assist," said John Vandeburg, owner of You Move Me Philadelphia. "This is a fantastic event that not only helps local families get the supplies they need – we also have a lot of fun!"
Some of the activities happening Friday and Saturday included Metroplex May Day Battle of the Schools, a Lowe's birdhouse making clinic, and a book fair and raffle at Barnes and Noble.
"With over 1,400 (13 gallon) bags of children's items collected, this year's Metroplex May Day was a resounding success," said Ellen Rosenberg, Director of Civic Engagement for the Goldenberg Group. "It's always amazing to see the community and our local businesses come together."
For more information on Cradles to Crayons, visit http://www.cradlestocrayons.org/philadelphia
-30-
Media Contact
Anjee Gill
Anjee(dot)Gill(at)youmoveme(dot)com
About You Move Me
You Move Me's mission is to move people, not just their boxes. With our on-time service, friendly, uniformed movers, up front rates and clean, shiny trucks, we make moving almost fun. For more information on booking a move or franchising opportunities, visit http://www.youmoveme.com
About The Goldenberg Group
Since 1987, The Goldenberg Group has built a reputation as one of Philadelphia's top developers of complex, transformative real estate projects. Originally specializing in the development of open-air shopping centers, it has created thousands of jobs, generated considerable tax and sales revenue streams, performed extensive environmental remediation, and improved wide-ranging local infrastructures. TGG's primary commitment remains positive transformation through its real estate and entrepreneurial activities, its community partnerships, and its on-the-ground charitable activities in the United States, Africa, and beyond. For more information, visit http://www.goldenberggroup.com