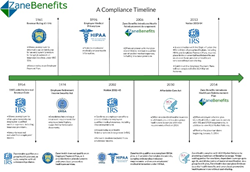 Salt Lake City, Utah (PRWEB) May 30, 2016
Zane Benefits, the leader in individual health insurance reimbursement for small businesses, announced today the publication of an original infographic, "Health Benefits Reimbursement Compliance Timeline."
The new resource helps business owners and health insurance professionals understand how Zane Benefits complies with various federal regulations and reforms.
Navigating the new health reforms can be confusing. This is especially true for businesses helping employees with individual health insurance premiums.
Can employers still reimburse individual health insurance premiums? According to Zane Benefits, yes.
Do employers need to use a compliant plan to avoid costly penalties? Yes. According to Zane Benefits, the fees for non-compliance are costly; up to $100 a day, per employee.
The free infographic is available at the ZaneBenefits.com website (no download required) and provides a look the following topics:
-A compliance timeline, 1954 to today
-The rules and regulations for individual health insurance reimbursement
-How employers can reimburse individual health insurance and avoid penalties
If you find the infographic helpful, please share it with friends, employees, clients, or colleagues. You can embed the infographic on your website or download a printable PDF for your business or clients.
About Zane Benefits, Inc.
Zane Benefits was founded in 2006 with a mission to consumerize employee benefits for small business. We have a vision for the world where employee benefits are actually employee benefits rather than employer benefits. "Consumerize" is the word we use to describe that vision. When small businesses offer Zane Benefits instead of traditional benefits, they save time and money by empowering employees with tax-free dollars. Using our online software platform (PeopleKeep®), small businesses help employees purchase their own benefits with real dollar contributions.