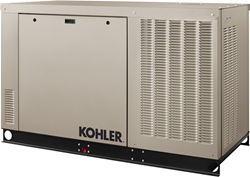 Kohler, Wis. (PRWEB) May 24, 2016
Kohler ®Generators is introducing a new 30 kW standby generator, designed for large homes and small businesses. The KOHLER 30RCL, which will quickly restore power following an outage, features a robust 1,800-rpm liquid-cooled KOHLER® engine and patented noise-reduction technology that keeps sound levels to a minimum.
"As people continue to build larger homes, we've seen an increased demand for a residential generator of this size," said Melanie Tydrich, senior channel manager for Kohler Generators. "The 30RCL really represents a sweet spot within our existing lineup of automatic backup generators. It's an ideal size for today's larger homes and we anticipate homeowners responding strongly to the combination of power and quiet operation that this new model offers."
Designed for whole-house power, the 30RCL will keep major systems and appliances – including HVAC, lights, refrigerators, sump pumps and security systems – running in the event of a power outage.* It can also protect sensitive electronics, including smartphones, computers and entertainment systems, due to its outstanding voltage and frequency regulation as well as ultra-low levels of harmonic distortion.
As an added benefit, the 30RCL runs at only 62 decibels during normal operation and 54 decibels during weekly exercise, which is no louder than a typical conversation. While ideal for larger homes, the 30RCL generator can also be specified for light commercial applications, including offices and other small businesses.
Similar to all KOHLER standby generators, the new 30RCL automatically turns on within seconds of a power outage. It runs on self-feeding fuels such as liquid propane (LP) or natural gas, eliminating the need to ever manually refuel the unit. Other features include:
*Based on load size

1,800 rpm, 2.2L turbo-4 cylinder engine
60 Hz single-phase and 60 Hz three-phrase (208, 240 and 480V), running on natural gas or LP
Corrosion-resistant, neutral-colored aluminum enclosure
KOHLER brushless, rotating field alternator with broad range reconnectability
RDC2 controller
Compatible with LCM, RXT, RDT RSB, ATS's and OnCue Plus®Generator Management System (GM81385-KP2-QS) and Programmable Interface Module (PIM)
UL/CSA certifications
Five-year, 2,000 hour warranty
The 30RCL joins the existing 24, 38, 48 and 60 kW models within Kohler's popular family of residential/light commercial generators. The entire product offering from Kohler Generators now extends from 8 kW all the way to 150 kW to cover essentially all backup power needs. For more information about the KOHLER 30RCL standby generator, visit KohlerGenerators.com or call
800-544-2444.
About Kohler Generators
Kohler Generators – part of Kohler Power Systems – manufactures a complete line of automatic standby generators from 8 kW to 150 kW, which connect to the electrical system of a home or business and quickly restore power following an outage. For more information, visit http://www.kohlergenerators.com or http://www.facebook.com/kohlergenerators.
Kohler Power Systems is a division of Kohler Co. and provides complete power systems, including generators (portable, residential, industrial, and marine), automatic transfer switches, switchgear, monitoring controls, and accessories for emergency, prime power and energy-management applications. Kohler Power Systems has delivered energy solutions for markets worldwide since 1920.
About Kohler Co.
Founded in 1873 and headquartered in Kohler, Wis., Kohler Co. is one of America's oldest and largest privately held companies comprised of more than 30,000 associates. With more than 50 manufacturing locations worldwide, Kohler is a global leader in the manufacture of kitchen and bath products; engines and power systems; premier furniture, cabinetry and tile; and owner/operator of two of the world's finest five-star hospitality and golf resort destinations in Kohler and St Andrews, Scotland. For more details, please visit kohler.com.