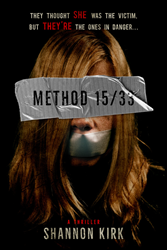 Method 15/33 is one of the year's best thrillers.
Longboat Key, FL (PRWEB) May 24, 2016
2015 National Indie Excellence Award Winner for Best Suspense Novel
2015 School Library Journal Best Adult Books for Teens (1 of only 17 Novels Selected)
2016 IBPA Benjamin Franklin Awards Gold Winner Mystery/Suspense
Method 15/33 is available in hardcover, trade paperback, and digital formats.
The Story:
Imagine a helpless, pregnant 16-year-old who's just been yanked from the serenity of her home and shoved into a dirty van. Kidnapped…Alone…Terrified.
Now forget her…
Picture instead a pregnant, 16-year-old, manipulative prodigy. She is shoved into a dirty van and, from the first moment of her kidnapping, feels a calm desire for two things: to save her unborn son and to exact merciless revenge.
She is methodical―calculating― scientific in her plotting. A clinical sociopath? Leaving nothing to chance, secure in her timing and practice, she waits―for the perfect moment to strike. Method 15/33 is what happens when the victim is just as cold as the captors.
The agents trying to find a kidnapped girl have their own frustrations and desires wrapped into this chilling drama. In the twists of intersecting stories, one is left to ponder. Who is the victim? Who is the aggressor?
The Reviews:
"Method 15/33 is crowded with fascinating characters -- even the spear carriers pop off the page -- but the standout is the kidnapped pregnant teenager. Her captors want her baby. Little do they know they've brought an insanely brilliant, angry, vengeful, borderline sociopath under their roof. Somebody's in big trouble... and it isn't the teenager."
―F. Paul Wilson, New York Times best-selling author of Santa Jack
"Completely original and totally kick ass! Shannon Kirk pulls no punches in this adrenaline rush of a thriller where the victim is the one to watch, while the kidnappers learn to fear. Loved it! "
―Lisa Gardner, New York Times best-selling author of Fear Nothing
"What happens when infant traffickers kidnap the wrong pregnant teen? You get Method 15/33, a cross between The Lovely Bones and Silence of the Lambs. Shannon Kirk's debut thriller is a dark, literate page turner, utterly compelling. I read it in one sitting."
― Leonard Rosen, Award-winning author of All Cry Chaos and The Tenth Witness
"Wow. Ridiculously good. Crazy good. Brilliantly heart-stoppingly nail-bitingly original, this is a true thriller tour de force. Shannon Kirk is an instant star."
―Hank Phillippi Ryan Agatha, Anthony and Mary Higgins Clark Award winning author of Truth be Told
"In Kirk's harrowing first novel, a kidnap victim―16 years old and pregnant―meticulously plots her escape. Although locked in a sparsely furnished third-floor room of what she believes to be a white farmhouse, the nameless narrator is confident that she can turn the tables on her male captor ("I had the wits to beat this horrible, disgusting thing"). Her visitors include a doctor and a couple she calls Mr. and Mrs. Obvious, who intend to take her baby. Fueled by a desire for revenge, she carefully catalogues every possible asset that she might use: a loose floorboard is #4, a pencil sharpener is #15, and so on. Meanwhile, FBI special agent Roger Liu investigates the abduction case of Dorothy M. Salucci, another in a series of missing pregnant teens, and he tracks a slim lead to rural Indiana. Back at the farmhouse, the narrator sets out to rescue herself, and with great cunning and patience she carries out the plan she calls 15/33. Her willpower and ingenuity prove more than a match for the callous brutality of those who wish her ill as this exciting tale builds to a surprising climax." Agent: Kimberley Cameron, Kimberley Cameron & Associates. (May)
Reviewed on 03/06/2015
―Publishers Weekly - Starred Review
"Nietzsche warned us to beware of people with a strong desire to punish. That thought lingers after putting down this dark, disturbing, damnably readable novel...a worthy challenge, a joy to discuss, and a great pairing with John Katzenback's equally riveting What Comes Next (2012)."
―Booklist - Starred Review
"Method 15/33 by Shannon Kirk has an extraordinary plot as well as an extraordinary character in Lisa Yyland, although we do not know her name until way into this crazy good book...Her thoughts, as she explains what she hopes to do, will bewilder you at the same time that you realize you're pulling for her. Make sure you have some extra time as you start this unusual and suspenseful novel. It is darn hard to put down. The only thing I wish is that I could meet this intelligent young woman but I am sure she wouldn't want to meet me. Good, good book. Don't miss it."
―Bookloons.com
"Why don't we use the word "rip-roaring" anymore? Because this was one rip-roaring thriller and I adored it....not that it's the Great American Novel, but because I couldn't put it down. Thriller fan? Pick this one up when it's published. You definitely won't regret it."
―Erin Brewster
"Method 15/33 is one of the year's best thrillers."
―Stephen Campbell, CrimeFiction.FM
"5 Stars...All in all, I really loved this book. This, like Never Smile at Strangers is one of those books that I'm probably going to keep referencing and mentioning in my other reviews as well. I don't think I could really describe how much I loved this book without spoiling you, so I'll just tell you: READ IT"
―Charmaine Lim, TeenBibliophilebooks.blogspot.com
"Method 15/33 takes us to some very dark places, and at times, we can't help but wonder whose soul is the darker―the captor's or the captive's. But stick around. In the book's last chapter, the darkness lifts and a light illuminates everything, both past and present. Then you'll reread the book to see what else you got wrong."
―Mystery Scene Magazine
"Pregnancy is a driving force in this month's crime fiction. Shannon Kirk's riveting debut novel, "Method 15/33,"features kidnapped pregnant teen Lisa Yyland. Inwardly she scorns and ridicules her captor, all the while pretending to be terrified and cowed into submission. Her greatest assets are intangibles: a steel-trap memory and an ability to literally switch her emotions on and off. Readers will see parallels between Lisa and Lisbeth Salander from "The Girl with the Dragon Tattoo," both victims who refuse to be victimized.
The story gathers steam as it goes along, and the reader soon becomes attached to quirky Lisa. So it's nice to know early on that she'll survive her ordeal (she narrates the story from 17 years in the future). The question is how, and watching the answer unfold is like watching a wondrously complicated, well-oiled Rube Goldberg contraption in action. Welcome a thrilling new voice in crime fiction."
―The Boston Globe
About the Author:
Shannon Kirk is the awarding-winning author of Method 15/33 (psychological thriller) and Heavens (Literary Fiction, TBP 2016). Method 15/33 has received multiple accolades: Winner of 2015 National Indie Excellence Award, Best Suspense; 2015 USA Best Book Finalist; School Library Journal's Best Adult Books for Teens (2015); and Finalist in 2013 William Faulkner William Wisdom Creative Writing Competition (when a Novella). Method 15/33 was optioned as a major motion picture and has foreign rights in more than fifteen countries.
Shannon enjoys writing in many genres of fiction and poetry. When not writing, she is a practicing lawyer and law professor, residing on Massachusett's Cape Ann with her husband and son and two cat writing accomplices, Marvin Marquez (in honor of Gabriel Garcia Marquez) and Stewie Poe (Edgar Allen Poe).
Learn more at http://www.ShannonKirkBooks.com