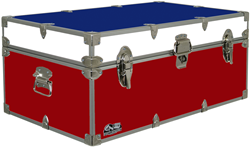 A great time to finalize your summer camp preparations and make the last of your purchases
Boyd, WI (PRWEB) May 25, 2016
Typically viewed as an unofficial beginning of the summer season, Memorial Day arrives early on the scene, giving everyone fair warning of the fast approaching summer season and summer camp along with it, right around the corner. A great time to finalize your summer camp preparations and make the last of your purchases, Memorial Day weekend tends to see lots of generous sales from excited summer camp retailers.
Popular camp retailers like Everything Summer Camp love going through their catalog and slashing prices on hundreds of available products whether it's camping gear, camp clothing, or other miscellaneous camp supplies.
"Our Weekend Sale touches nearly every one of our departments with some kind of discount or another," says Everything Summer Camp Vice President, Mark Sieglaff.
Starting out, they've cut $15 off their Steel Camp Trunks—which includes their most popular camp trunk, The Happy Camper. And then, to further sweeten the deal, they're including a $10 gift certificate inside every trunk that gets ordered this weekend! For families that aren't in the market for a hard camp trunk, Everything Summer Camp is stretching this deal to their Pop-Up-Soft-Trunk as well. It's an outstanding duffel bag that performs almost as well as a steel trunk.
Next they're taking $5 off of their latest means of trunk decorating—Name Plax! These are customizable, contour-cut vinyl decals featuring a camper's name with their choice in color for font, background, and border! Removable, but not reusable, Name Plax are intended for the top of a camp trunk, but may also look good on bedroom doors, windows, and walls. Aside from fabric exterior trunks, they work on most any camp trunk have—not just the C&N brand at Everything Summer Camp!
The first and last rules of summer camp packing are to label everything! This weekend, find all sorts of labeling products available for 20% of their regular prices! Also marked 20% off are their new 'camp. Tees' collection—an instant hit. All products from the Color War selection are marked 20% off too. Get great Color War T-shirts and other fun accessories to celebrate team spirit!
All of their camping gear products in the Sleeping Bags, Rain Gear, Laundry Bags, Toiletry Bags, Bedding, and Swimwear Departments are marked 10% off! And even though, that sounds like a lot, that's just the beginning. Everything Summer Camp invites their customers to browse around on their site as they've marked down at least another 150 products than what's already been mentioned.
Get prepped for summer fun this weekend and save on select gear with this excellent weekend sale.
About Everything Summer Camp
Everything Summer Camp has been helping kids get ready for summer camp since 1987. Their wide selection of camping gear includes camp trunks and other camping supplies. Top selling items include water bottles, cot-sized bedding, rain jackets, insect repellent, iron on labels, and more. Known for their customer service and fast shipping Everything Summer Camp is recommended by more camps than any other camp outfitter.
Visit http://www.EverythingSummerCamp.com to learn more about camp footlockers, name labels, duffel bags, and camping supplies.