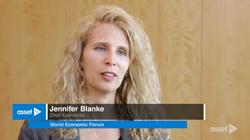 I think in general I am a bit more sanguine on China than many in the financial markets. Yes, debt has gotten very high, and that is of some concern. At the same time, I think China has a lot more room to grow.
New York, NY (PRWEB) May 26, 2016
Asset TV's Gillian Kemmerer traveled to Geneva, Switzerland at the end of April to interview World Economic Forum chief economist, Jennifer Blanke. In this interview, Jennifer Blanke identified inequality as her top macroeconomic concern in 2016.
"I'm very worried about this," Blanke said in an interview at WEF headquarters in Geneva, "because if you look at a lot of the other geopolitical risks, let alone the socioeconomic risks, so much of it is linked to the fact that people feel that they've been disenfranchised, that they're not part of the system."
Blanke added that this economic dispersion could even fuel terrorism.
Among the global economies Blanke touched upon were Brazil and China, both of which are at the forefront of investors' minds as they position their portfolios.
"In Brazil we've known for many years what the issues were," Blanke said. "It's the markets, it's the educational system, it's also corruption. And this is something that's been coming out of our data in our competitiveness work, for example, for many years."
She reminded that Brazil had been growing quickly before the recession, so it was contracting from a higher base than in previous years.
On the topic of China, Blanke's views were temperate in comparison to the prevalence of China bears in the global hedge fund industry.
To learn more about Blanke's views on the global economy, please tune into Asset TV or see our LinkedIn article.