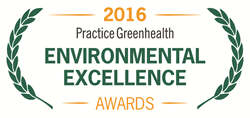 Muncy, PA (PRWEB) May 26, 2016
Construction Specialties (CS), a leading manufacturer of architectural building products such as Acrovyn® Wall Protection, Acrovyn® Doors and Frames, Entrance Flooring Systems and CS Expansion Joint Covers, is pleased to announce that it has been chosen to receive its eighth consecutive Champion for Change Award from Practice Greenhealth. The award was presented at CleanMed 2016 in Dallas, TX, on May 19, 2016, and honors CS' ongoing commitment to improving its environmental performance and high standard of excellence in sustainability.
Since 1995 CS has been on a continual journey to improve sustainability of its products as well as its manufacturing practices. CS is an industry leader in eliminating chemicals of concern in the built environment. Many of CS' products are part of the Cradle to Cradle Certified™ Products Program and several of its facilities in Pennsylvania are ISO 14001 certified.
"Being honored by Practice Greenhealth with one of its Champion for Change awards for the eighth consecutive year is a testimony to consistency and constancy," said Howard Williams, Senior Vice President of Sustainability. "In this award lie the essential components of change: the visionary asking for responsible outcomes, and then those who make things, effectively responding. We applaud their consistency of purpose and constancy of holding to a higher standard. Thank you, Practice Greenhealth."
"Construction Specialties was a founding member of Practice Greenhealth, joining in 2008, and has had the foresight to commit to creating less toxic, less wasteful, and more sustainable architectural products. CS has accomplished much in the area of 'chemical responsibility' with exemplary efforts to reduce its use of toxic chemicals, to identify and replace problematic chemicals in their supply chain and to publicly support legislation promoting green chemistry or regulating toxic chemicals," said Lara Sutherland, Director of Business Membership at Practice Greenhealth.
###
About Construction Specialties:
Founded in 1948, Construction Specialties (CS) is a family-owned building products company. CS provides solutions to complex problems that architects, designers, building owners, facility managers, and contractors face every day. Since inventing the first extruded louver, CS has become a global leader in interior wall protection, impact-resistant doors and frames, entrance flooring, expansion joint covers, architectural louvers and grilles, sun controls, specialty venting, and cubicle curtains and tracks. CS draws upon extensive expertise to design custom, high-quality products—many of which are a part of the Cradle to Cradle Certified™ Products Program. CS products can be found on some of the world's most significant architecture: One World Trade Center in New York City, The Shard in London and Burj Khalifa in Dubai. For more information about CS products and solutions, please visit: http://www.c-sgroup.com.