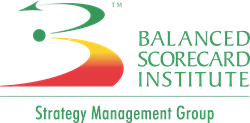 The conference was a nice blend of planning and execution—both best practices and practical examples--from organizations in all sectors.
Cary, NC (PRWEB) May 25, 2016
In partnership with international conference provider Informa Middle East, the Balanced Scorecard Institute (BSI) concluded its successful Strategy Execution and Performance - Featuring Balanced Scorecard Conference, held May 8-12, 2016 at The Address Hotel, Dubai Mall, UAE. The conference had two pre-forum workshops, two main conference days, and three post-forum workshops that featured over 20 sessions, including five keynotes, 14 plenary sessions, 3 case studies, and 2 panel discussions.
The forum is part of Informa's Strategy Leaders Series which brings CEOs, CSOs, Department Heads, and Line Managers together to share knowledge and have them attend networking events for strategy management and business performance. This year's conference featured international experts and regional pioneers sharing the latest models, tools, and trends for successful strategy execution. It also featured outstanding strategy execution presentations from leading international organizations, such as: Liebherr Mining Equipment (USA), DP World (UAE), Qatar Petroleum (Qatar), Smart Dubai Office (UAE), OmanTel (Oman), Qatar Petroleum (Qatar), Abu Dhabi General Services (UAE), Adidas (UK) and Bank of Ireland (UK).
Co-Founder and CEO of the Balanced Scorecard Institute, and co-author of The Institute Way: Simply Strategic Planning and Management with the Balanced Scorecard, Howard Rohm, chaired the conference. Howard and Joe DeCarlo, VP for International, presented two workshops, and moderated case study sessions and panel discussions.
"The conference was a nice blend of planning and execution—both best practices and practical examples--from organizations in all sectors," Howard said. He continued, "The speakers and presentations were very strong and engaging. This signature event is part of our long standing partnership with Informa Middle East."
About the Balanced Scorecard Institute:
The Balanced Scorecard Institute, a Strategy Management Group Company, provides strategic planning, balanced scorecard, and performance management training, certification, and consulting services to government, nonprofit, and commercial organizations. Services include public and on-site courses, facilitation and consulting services, and information and tools used by executives, managers and analysts to transform their organizations into "performance excellence" organizations.
The Institute's website, http://www.balancedscorecard.org, is a leading resource for information, ideas and best practices on strategic planning and management, performance measurement, and balanced scorecard systems. The Institute's Nine Steps to Success™ balanced scorecard framework integrates strategic planning, budgeting, operational planning, performance measurement and strategy execution into a practical disciplined framework for helping organizations achieve higher levels of performance.
About Informa Middle East:
Informa Middle East is part of Informa PLC which operates at the heart of the Knowledge and Information Economy. It is one of the world's leading business intelligence, academic publishing, knowledge and events businesses. With more than 6,500 employees globally, it has a presence in all major geographies, including North America, South America, Asia, Europe, the Middle East and Africa.
Our Middle East office, formerly known as IIR Middle East, has over two decades of regional experience in organizing and managing all types of business events. We organize over 400+ public training courses, conduct in-house training programs, organize large scale conferences and manage events on behalf of corporate companies, governments or associations. For more information: http://www.informa-mea.com