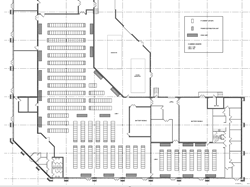 "EEC provided valuable insight and cost effective solutions to upgrade this property's infrastructure. The location of this building, its access to fiber and recent infrastructure enhancements make this an exceptional offer."
Marlborough, MA (PRWEB) May 26, 2016
Electronic Environments Co. (EEC) a leading provider of telecom and data center design, construction and service solutions; just completed an engineering assessment to help Merritt Properties prepare a 34,835 SF commercial property, previously occupied and leased by Sprint, in the active data center market located in northern Virginia.
EEC evaluated the existing electrical and mechanical infrastructure of this facility to provide Merritt with valuable data about repurposing the facility. This information allowed EEC to benchmark the infrastructure against site design requirements, industry standards and best practices. Based on these results and drawings, recommendations to improve the reliability, redundancy and efficiency were made. The facility currently features two (2) 3,000 amp (277/480V) electrical services with two 2MW generators with associated switchgear and PDUs. This facility, located in Dulles, VA is already equipped with cable trays/ladder racking and cabling and can be connected through dense dark fiber (up to 432 strands) to any of the key data centers in Ashburn, Reston, Vienna/Tysons Corner, and Manassas. Accessible fiber carriers near this location include CenturyLink, Level 3, Zayo, Lightower and Verizon.
Flexibility was the key focus in EEC's recommendations and aligned with Merritt's goals to prepare the facility for use as a modern, highly efficient data center to meet the needs of the new PUE requirements for data centers. The data center is expandable to 60,000 SF and has the ability to quickly increase capacity to 5MW. This is an ideal facility for an enterprise or IT firm seeking to exclusively own or lease their facility instead of paying the ever increasing costs of data center Colocation space in the Ashburn market.
While EEC's recommendations included select upgrades to the cooling systems, UPS systems, PDUs, and DC plants, the facility's ladder rack raceways and associated distribution wiring are ideal for a tenant who is considering using DC power systems.
Keith Wallace, Sales Manager of Merritt Properties, stated "EEC provided valuable insight and cost effective solutions to upgrade this property's infrastructure. The location of this building, its access to fiber and recent infrastructure enhancements make this an exceptional offer."
"We evaluated this facility's infrastructure so that Merritt can provide the potential client with the benefits and exact condition of this site." said Electronic Environments' Jim Stark, Director of Engineering & Construction. He also noted "The building has good bones and clearly offers the potential to compete head-to-head with other data centers in this technology area."