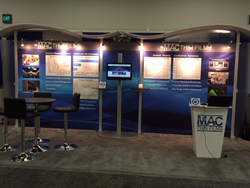 MAC Thin Films is proud to be launching new technologies and products at SID Display Week 2016
Santa Rosa, California (PRWEB) May 24, 2016
MAC Thin Films, Inc. will be expanding their exhibit space at Display Week 2016 in Booth # 310. They will be showcasing their:

PrintFree™ and HD PrintFree™ product line with outstanding Anti-Smudge Performance, Unsurpassed Durability, and Low Reflected Brightness. Perfect for Automotive, Avionic, Defense, Industrial, Medical and Consumer Applications.
IR Blocker 40™ and IR Blocker 70™ products for DID, Outdoor Kiosks, Point of Sale Displays, and ruggedized displays applications offering excellent sunlight readability and passive thermal management.
Custom Display Conductive Solutions with High Optical Transparency. Low Specular Reflection, Precise Electrical Resistivity, Thermally Uniform and Stable with a Wide Range of Sheet Resistance.
MAC Thin Films CEO, Mark Madigan, will be presenting during the Exhibitors Forum on "Optical Coated Solutions Enable and Enhance Specialty Displays" at 2:45 pm, Tuesday May 24th, 2016.
MAC Thin Films is a world leader of vacuum deposited thin film coatings designed for applications that require precision anti-reflective properties, conductive anti-reflection features and high reflecting front surface mirror characteristics. Using a variety of rare and unique materials, including magnesium fluoride, MAC Thin Films is able to deliver superior performing products from both the in-line (MAC) platform as well as its batch manufacturing systems.