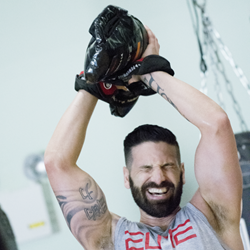 Certified PowerWave Instructors are the key to maximizing the results the PowerWave's Wave20, Beast Rep and Complete 30/40 programming can bring to the member base of a fitness facility
Knoxville, TN (PRWEB) May 26, 2016
Power Systems, a leading developer and supplier of professional fitness education and products recently hosted the first PowerWave Instructor Certification Course in Stoughton, Massachusetts. The course was led by Power Systems' Education Coordinator, Elisabeth Fouts, who lead a group of fitness professional through the 8 hour interactive course to qualify participants as certified PowerWave trainers.
PowerWave is a multifunctional training device partnered with high intensity interval training (HIIT) programming designed to increase metabolism, strength and endurance. "Certified PowerWave Instructors are the key to maximizing the results the PowerWave's Wave20, Beast Rep and Complete 30/40 programming can bring to the member base of a fitness facility," says Fouts, who is one of two PowerWave Senior Coaches in the United States that can certify other trainers in the versatile workout program. PowerWave training is the fastest growing trend in Europe, both for the intense workout and the fact that instructors can maximize their studio time, offering two classes in the space of one hour.
After attending the PowerWave Instructor Course, qualified trainers will be able to teach the workout program to meet the specific needs of their client. The course also provides PowerWave instructors the ability to use the proprietary program score card; which will help coach clients toward their individual goals.
"Each instructor will leave the course with the ability to teach for correct form, safety and motivation to deliver a first-rate HIIT training workout program," says Fouts.
For more information on the PowerWave program and upcoming PowerWave Instructor Course training dates, visit http://www.power-systems.com/powerwave, or contact Elisabeth Fouts at efouts(at)power-systems(dot)com.
About Power Systems
Founded in 1986, Knoxville-based Power Systems is a leading provider of fitness and performance products and is recognized throughout the sports and fitness industries for its complete selection, superior customer care, and fast delivery. Power Systems is committed to quality, innovation, and service through a knowledgeable team that is dedicated to exceeding customer expectations. http://www.power-systems.com