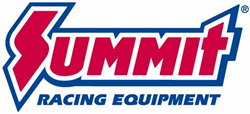 Tallmadge, OH (PRWEB) May 25, 2016
Summit Racing now carries Fat N' Furious Parts Combos. They feature many of the parts used on the cars seen on Season Three of Discovery Channel's Fat N' Furious: Rolling Thunder television series.
Fat N' Furious: Rolling Thunder is on Discovery Channel's "Motor Monday" program block. The show follows the larger-than-life exploits of Tommy Christmas, Chuck Kountz, Steve McGranathan, and Andy Pivarnik as they transform old vehicles into rolling masterpieces. In Episode Four, the Christmas Automotive guys transformed a 1965 Buick Riviera into a Gasser style drag race car and restored a 1985 Chevy El Camino.
Fat N' Furious 1965 Buick Riviera Gasser Parts Combos
The 1963-65 Buick Riviera is one of the most beautiful cars GM ever built. A customer rolled his '65 into Christmas Automotive with instructions to turn the car into a nose-high Gasser that could run 11s—and have three seats. The Fat N' Furious guys thought this was just short of blasphemy, but did what the customer asked.
Darn if they didn't pull it off. They replaced the Buick nailhead V8 with a 355 cubic inch small block Chevy with a dual quad setup, added those requisite three racing seats, and shod the car with M&H Racemaster DOT slicks, Wheel Vintiques steelies, and Rocket Racing Launcher wheels.
Fat N' Furious 1985 El Camino Parts Combos
A Christmas Automotive customer wanted this 1985 El Camino car restored in memory of her father and brother. The Camino was in dire straits and needed everything. Of course, the Fat N' Furious crew had to walk a fine line between a total restoration and the customer's budget.
The El Camino's weak 305 was yanked and replaced with a Chevrolet Performance 350 HO crate engine. The entire braking system was replaced with OE replacement parts, and the interior got new Trim Parts carpet, Summit Racing heat barrier mat, a Grant steering wheel—even new Dorman power window and door lock switches. Other goodies include BFGoodrich Radial T/A tires, Hooker headers and a Summit Racing dual exhaust, and a B&M Tork Master converter for the Turbo 350 transmission.
New episodes of Fat N' Furious: Rolling Thunder air weekly, Monday nights on the Discovery Channel. New Parts Combos will be introduced after each new episode debuts. Visit Discoverychannel.com for show info and schedule.
Summit Racing Equipment
http://www.SummitRacing.com
1-800-230-3030