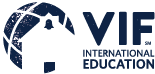 "VIF is constantly seeking opportunities to strengthen our ability to provide equitable, quality education," said VIF CEO David Young.
(PRWEB) May 25, 2016
VIF International Education, a global education partner of K-12 schools and districts, has acquired Participate Learning, a leading online platform for educational resource discovery and collaboration. The acquisition positions VIF to deliver best-in-breed technology to enhance and expand professional learning and collaboration opportunities for educators. Terms of the deal were not disclosed.
Participate Learning is the creator of the Participate Chat™ which enables thousands of teachers to easily find and participate in Twitter chats and to create collections, transcripts, and share Twitter chats. Participate Learning also helps educators find and share thousands of free, vetted education resources such as websites, online videos and apps, through its proprietary search engine. Educators can quickly create and collaborate on collections of resources gleaned from the search engine or Participate Chats.
VIF's global education programs support teachers in developing and applying global competence in their classrooms through focused and measurable professional training, flexible resources and peer-to-peer collaborations.
"VIF is constantly seeking opportunities to strengthen our ability to provide equitable, quality education," said VIF CEO David Young. "In order to achieve our vision, we will have to achieve scale. Participate Learning is a leading edtech company that will help us deliver flexible, cost-effective tools and resources to educators who make a lasting impact on students in classrooms around the world."
As a result of this acquisition, VIF's programs will be powered by Participate Learning's online platform, starting in the 2016-17 school year, to deliver an enhanced professional learning experience for educators through superior technology and additional opportunities for collaboration.
"VIF's leadership in global collaboration and online professional development is a natural fit for the Participate Learning platform," said Alan Warms, founder and CEO of Participate Learning. "We are excited to partner with VIF to further develop global-ready teachers and students."
About VIF International Education
VIF International Education partners with districts and schools to prepare global-ready teachers and students. For more than 25 years, educators have used VIF's professional development and curriculum, language acquisition and cultural exchange teacher programs to create engaging learning environments that integrate technology, cultural literacy and other 21st century skills into classroom instruction. VIF is a certified B Corp and 'Best for the World' honoree headquartered in Chapel Hill, North Carolina.
About Participate Learning
Participate Learning is an educator collaboration and resource discovery platform. The Participate Chat™ service showcases and provides deep interaction and resource collection tools for hundreds of educator-oriented Twitter chats around the world. In addition, Participate Learning provides a search engine for thousands of expert-vetted and standards-aligned digital resources, and offers curation and collaboration tools around those resources.