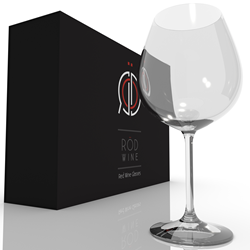 We started the business because there is no other company that exists that provides glassware that highlights wine's natural flavors; has a beautiful, sexy, and timeless design, is made of the highest quality; and has an attractive container for reuse
New York, New York (PRWEB) May 26, 2016
RÖD Wine, a new company started by two wine enthusiasts, is introducing a revolutionary line of glassware that will change the way people enjoy wine.
"Wine is our love and passion," said Johan Hallberg, co-founder and CEO of RÖD Wine. "We are dedicated to helping people have the best wine drinking experiences possible."
Hallberg and co-founder Carl Helgesson started the business after discovering how different wine tasted in various glasses.
"The glasses had a major impact on the wine and experience itself," said Helgesson. "We realized one important thing: glass matters."
The two entrepreneurs began to immerse themselves in glass knowledge while analyzing the market. They were looking for a company that met all of their criteria for the perfect wine glass. They didn't find one.
"We started the business because there is no other company that exists that provides glassware that highlights wine's natural flavors; has a beautiful, sexy, and timeless design, is made of the highest quality; and has an attractive container for reuse and storing," said Hallberg.
They currently offer three sets of glasses that are uniquely crafted for drinking champagne, white wine, and red wine. The products are made in one of the most renowned glass regions in the world - Bohemia, Czech Republic. RÖD Wine glasses are Restaurant Grade, made from lead-free crystal called crystalline, and tempered to withstand a lot of cheering. All glasses are dishwasher safe and are produced in a modern factory in an ecological process that restricts and recycles water and runs on green electricity.
Fine champagne is meant to be enjoyed in stemmed glasses, and RÖD Wine's champagne glasses are crafted to keep the carbonation inside. This is because temperature is critical to getting the best experience possible when drinking a bubbly champagne or sparkling wine.
The company's white wine glasses are created to keep wine cool and crisp while remaining sleek and elegant. Fine white wine is meant to be sipped from stemmed glasses because keeping the right temperature is crucial for the full experience.
RÖD Wine's red wine glasses have a wider bowl to help the wine aerate. This is referred to as letting the wine breathe - letting in more oxygen, and in turn, enhancing the flavor, smell and overall experience.
"Wine novices and experts alike will enjoy the stunning glasses as a gift," said Helgesson. "They come in beautifully designed, innovative boxes. The attractive containers are created for reuse and storing."
"A set of glasses is perfect for anniversaries, weddings, graduation, and housewarming parties," said Hallberg. "Surprise someone special with an elegant case for a birthday, New Year's, or Valentine's day. Anyone who enjoys wine will appreciate it."
The two wine loving entrepreneurs are also dedicated to spreading wine wisdom. A 180-page e-book is included with each purchase, containing all of the wine information needed for beginners and enthusiasts alike. Both co-founders are dedicated to helping people become better wine drinkers, and showing how to get the best wine experiences possible.
"Our innovative glasses make a mediocre wine taste good, and a great wine taste amazing," said Helgeson. "Glass matters, and we are proud to offer a gorgeous line of glasses that will help people create wonderful moments with loved ones."
The wine enthusiasts offer their attractive, durable, and eco friendly line on Amazon.
"RÖD is the Swedish word for the color red. It's synonymous for red wine, but also for love," said Helgesson. "To fully enjoy a glass of wine, all it takes is a good glass."
To learn more about RÖD Wine, visit RÖD Wine at Amazon.com
About the company
RÖD Wine is a new, innovative company that strives to give people the best wine drinking experience possible. Enjoy love in a glass. Crafted in the most renowned glass making regions - Bohemia, Czech Republic - each product is uniquely and beautifully designed to enhance the taste, smell, and experience of wine and champagne. They are durable, eco friendly, and come in a gorgeous box that is created for reuse and storage.
They currently sell glass sets specifically for champagne, white wine, and red wine. The company is also dedicated to sharing wine wisdom. A complimentary 180-page e-book is included with each purchase that includes all the information about wine that both the beginner and enthusiast will enjoy.