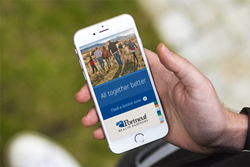 Our new brand focuses on the idea of making Eastern Idaho a better place to live.
Troy, NY (PRWEB) May 25, 2016
Hospital marketing agency Smith & Jones recently launched a new branding campaign for Portneuf Medical Center, a 187-bed hospital and health network in Pocatello, Idaho.
"The Pocatello community is respectful, generous, and hardworking and we wanted to show that our health system aligns with these characteristics. Smith & Jones helped us express a brand promise that's authentic and reflects these values," Director of Marketing Todd Blackinton said. "Our new brand focuses on the idea of making Eastern Idaho a better place to live."
Smith & Jones, working collaboratively with the Portneuf community, renamed the health system as Portneuf Health Partners to reflect the partnership between Portneuf Medical Center, LHP hospital group, the non-profit health trust, physicians and staff. The brand promise, "All together better," represents the idea of working collectively to create a healthier community and better place to live.
The creative focuses on the local community, and symbolizes the hardworking and family-oriented lifestyle that is important to residents. The campaign launched across media, including TV, web video, digital, and environmental ads that show the people, iconic landmarks and beautiful landscape of Eastern Idaho. Additionally, a new website is underway that will improve the patient experience through responsive design and intuitive navigation, while reflecting the brand promise. The website is expected to go live in early fall.
Portneuf Medical Center first approached Smith & Jones to help drive volume and build awareness of its organization and expand its consumer base. The healthcare marketing specialists helped reposition its organization, developed a creative platform and strategic marketing plan.
"Our strategy was to introduce Portneuf Health Partners as a healthcare collaboration focused on giving back to the community through its quality care, dedicated physicians and staff, and commitment to keeping the residents of Eastern Idaho healthy," Smith & Jones CEO Mark Shipley said.
About Smith & Jones
Smith & Jones is the marketing communications agency exclusively focused on hospitals and health systems that compete with academic medical centers. We imagine an America where healthcare is truly personal, where everyone has local access to a superior customer and clinical experience, and as a result, people live healthier lives. We contribute to that vision by helping our clients create meaningful and desirable healthcare brands, align their internal teams, engage new and existing patients, and drive downstream revenue. Together, we change the outcomes.