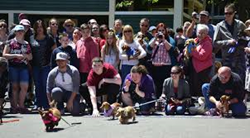 The annual dachshund race is something that our guests and employees look forward to every year. We are very excited that Bear Creek Campground is joining in on the fun this year with a hot dog eating competition! Sara Frias, Marketing Director
Bristol/Southington CT (PRWEB) May 24, 2016
On Saturday May 28th, Lake Compounce will be hosting the 3rd annual Pink's Hollywood Hotdog Weiner Dog 100 Race featuring 100 lightning fast Dachshunds plus a dog Fashion Show. Bear Creek Campground has decided to join in on the fun by holding their first ever hotdog eating contest with the award being an all-expenses paid mini vacation at Bear Creek and Lake Compounce.
In conjunction with the Connecticut Dachshund Rescue and Pet Services (CTDRPS) organization, the Weiner Dog 100 Race will feature 100 Dachshunds competing in heats of five, racing for the ultimate distinction of 'Fastest Hot Dog'. The top three winners will be donned with first, second and third place metals on a three-tiered podium and each will receive a basket of dog treats courtesy of the Lake Compounce. The race will be followed by a Dachshund Fashion Show.
Dachshund Rescue and Pet Services founder Anne Jordan says "We are tickled PINK to be invited to conduct our Dachshund races at Lake Compounce. We are thrilled with the number of racers attending and the wide variety of Dachshunds you'll get to see. It's going to be fun for everyone!"
Pink's Hot Dogs, a Hollywood Legend since 1939 is a family owned business and was named by Fox News as number one in a list of Top Ten Hot Dog Stands in the U.S. The famous hot dogs attract celebrities such as, Jay Leno, Martha Stewart; and Food Network superstars, Giada de Laurentiis and Guy Fieri. Pink's first East Coast location was added to Lake Compounce in 2014.
The hot dog eating contest at Bear Creek Campground at Lake Compounce will take place at 4pm on May 28th and is open to the public to both watch and participate. Participants must be at least 18 years of age and will be given an allotted time to eat as many hotdogs as they can and need to preregister to participate by contacting Lake Compounce at sociallc(at)lakecompounce(dot)com.
About Lake Compounce
Lake Compounce, part of the Palace Entertainment family of parks and New England's premier family theme park is open for the 2016 season. Celebrating its 170th season, Lake Compounce is the oldest continuously operating amusement park in North America. Summer Season Passes are currently on sale for the 2016 season starting at $55. More information and the park's operating schedule can be found at lakecompounce.com.
About Palace Entertainment
Palace Entertainment is one of the leading leisure park operators in the United States. With parks located in 10 states, Palace Entertainment continues its expansion of brands within the family entertainment sector. The company operates Kennywood amusement park in Pennsylvania, Noah's Ark water park in Wisconsin, Splish Splash water park in New York, and Raging Waters in California, among many other family favorite destinations. Palace Entertainment's parks provide family oriented and affordable attractions to visitors of all ages, offering a wide range of attractions, such as roller coasters, Ferris wheels, live shows, variable depth pools, water slides, animal shows, miniature golf courses and arcade games. Palace Entertainment greets millions of visitors annually.