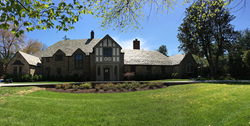 Washington, DC (PRWEB) May 25, 2016
Washington, DC (May 24, 2016) – TTR Sotheby's International Realty announced the sale of an exceptional stone manor home in Washington, DC that is the most expensive residential property to sell in DC, MD or VA in 2016. Vice Presidents of the firm, Christie-Anne Weiss and Christopher Ritzert, represented the buyers. The home was listed for $10,000,000.
Set among stately trees and perennial gardens in the Forest Hills neighborhood, the spectacular, fully renovated property features seven bedrooms, ten bathrooms, soaring ceilings, exposed beams, an open kitchen and a large pool. A separate guesthouse offers two additional bedrooms.
For over 30 years, Ritzert Weiss Partners have successfully advised transactions of all price ranges throughout the region. In 2015, their sellers achieved 101% of the asking price while their buyers paid 94% of list price, on average. For more information, visit http://www.ritzertweiss.com
As one of the top brokerage firms in the Washington region measured by sales volume, TTR Sotheby's International Realty is recognized for its long-standing commitment to philanthropy and community leadership.
The Sotheby's International Realty network currently has more than 18,800 sales associates located in approximately 835 offices in 63 countries and territories worldwide. TTR Sotheby's International Realty has been the exclusive affiliate for the Washington, DC metropolitan area since 2006. The 23 year-old firm currently has 280 agents with 5 offices in the region. For more information, visit http://www.ttrsir.com.