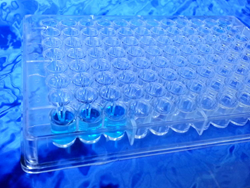 Brooklyn, NY (PRWEB) May 26, 2016
FireflySci has been manufacturing quartz and glass cuvettes for decades. FireflySci cuvettes are used in leading laboratories all over the globe. Their cute firefly logo has been spreading to more and more labs every day.
In addition to manufacturing awesome cuvettes, FireflySci makes spectrophotometer calibration standards that never require recalibration. These revolutionary standards have changed many laboratories procedures by saving them thousands of dollars per year in re-calibration fees.
Now, FireflySci is expanding into making a 96well plate for ELISA experiments. What FFS has done is gather all of the most popular elements of 96 well plates in the market and have combined them into one easy to use device. What this means for 96 well plate users is that it is ridiculously easy to find the exact well plate they need in the shortest amount of time on the FFS website.
All researchers know that they can spend hours on a website trying to find the correct plate for their ELISA experiment. Choosing the proper plate material, well shape, volume, transmission, coatings, etc. can be a daunting and undesirable task. All of these details are critical for an experiment to run properly, but who has the time to look at every single detail?
Now there are many different type of well designs for a 96well plate. Some designs are for storage and cell grow but the engineers at FFS have put their focus into one specific design. That focus has been in designing the best U-shaped well for optical measurements, such as ELISA. The FFS U-shaped wells are perfectly flat on the bottom, allowing the plate readers the ability to take easy, clear measurements.
The numbers of wells is also an important factor in buying a well plate. Well plates can range in size for 4 wells all the way up to 384 wells. The FFS research team has determined that the magic number for the best automation and best accuracy, balanced with price, is to use a plate with 96 wells. This number of wells allows for fast automation for complex experiments such as DNA quantification, serial dilutions, hemagglutination, etc.
FFS 96 well plates are all made from polystyrene. Polystyrene has a great transmission range which is 340-900 nm. This completely covers the VIS range and most well plate applications. Polystyrene is also easy to clean, but is low enough in price to be discarded after each use.
The team at FireflySci are super excited about their new 96well plates. For a limited time, FFS is encouraging scientists to try a free sample of their well plates just so they can see how awesome they are.
For more information visit http://www.fireflysci.com