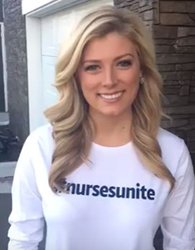 Find what makes you happy and then figure out a way to make a career out of it.
Fort Lauderdale, FL (PRWEB) May 24, 2016
Uniform Advantage (UA), a vertically integrated, multi-channel retailer of uniforms to the healthcare and hospitality industries, celebrated Nurses Week with the help of Miss Colorado, Kelley Johnson, RN. Uniform Advantage and Johnson first teamed up earlier this spring and are continuing their partnership to recognize the important role nurses play in health care during this week-long event.
The American Nurses Association (ANA) designated May 6–12 as permanent dates to observe National Nurses Week in 1994 and in all subsequent years. Within this week are other designated events such as National Student Nurses Day on May 8 and National RN Recognition Day on May 6, to honor the nation's indispensable registered nurses for their tireless commitment 365 days a year.
Uniform Advantage promotes this week each year to bring special attention and appreciation for the individuals that make up the nursing community. UA hosts a variety of special promotions, giveaways, and exclusive nurses pride items to help bring awareness and give back to these individuals. This year, UA partnered with Johnson to put together a special video in which Johnson talks about her inspiration for being a nurse and what it means to her. She also offered advice to her fans: "Find what makes you happy and then figure out a way to make a career out of it."
Uniform Advantage also launched a campaign to spread awareness and to honor nurses and the work they do, for which Miss Johnson was a partner as well. This campaign, which was called #nursesunite, was formed by UA in order to thank nurses for their hard work. The company sent t-shirts with #nursesunite on them to several nurses, as well as $50 gift cards to be auctioned off on their own personal blogs. Both Uniform Advantage and Miss Johnson each posted videos about their partnership on the #nursesunite campaign on their social media channels (visit https://www.youtube.com/watch?v=79yd_FAyfGE to see the full Kelley Johnson video, and https://www.youtube.com/watch?v=NmsfkidyH9c to see the full Uniform Advantage video).
The 2016 theme of National Nurses Week, as designated by the ANA, was "Creating a Culture of Safety." ANA asked all nurses to consider how they can individually and collectively work toward creating a culture of safety in their workplaces, which means ensuring not only the safety of their patients, but also their own safety.
To watch the entire video featuring Johnson and to read more about the special activities UA is hosting in honor of National Nurses Week, please visit http://www.uniformadvantage.com/a-day-in-scrubs/hot-topics/kelley-johnson.asp.
About Uniform Advantage
Uniform Advantage has represented style, quality and, above all, customer satisfaction for more than 30 years. As the first division of UA Brands, the chain was launched with a single South Florida store in 1985. Today, the company operates 29 retail locations in key markets across the U.S.; e-commerce and print catalog divisions; plus designs and manufactures its own proprietary healthcare apparel lines. The company's corporate office is based in Fort Lauderdale, Florida with a distribution center near Atlanta, Georgia. Learn more at http://www.UniformAdvantage.com or by calling 800-283-8708.