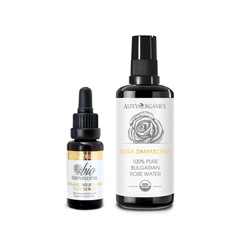 The distillation of organic rose flower water and rose otto essential oil is an unique blend of science and art
Chicago, IL (PRWEB) May 25, 2016
Alteya Organics, a leading certified organic beauty maker of exquisite functional skin and beauty care based on the Bulgarian Rose Otto announced today a new business relationship with Costco Wholesale Corporation. Starting in May 2016, Costco.com will offer Alteya's Award-Winning USDA Organic Bulgarian Rose Water Toner and BioDamascena Nourishing Face Serum as an exclusive 2-Step Skin Care Regimen Set. This offering is designed for the discerning customer looking to pamper, moisturize and nourish their skin with fine USDA Certified Organic skin care products.
Alteya's Organic Rose Water, special thermal-distilled from fresh organic rose petals from company's own rose fields and in its own rose distillery, is an award-winning therapeutic- and skin care-grade toner based on the marriage of 400-year old tradition with modern distillation research. It contains just one ingredient - pure organic Rosa Damascena Bulgaria floral water, widely considered nature's best moisturizer, and suitable for all skin types and many skin conditions.
Alteya's BioDamascena Organic Face Serum, a 2015 winner of Delicious Living Magazine's Best Beauty and Body Award, is based on Alteya's Bio Damascena™ Skin Reviving complex, a unique blend of organic botanicals, Rose Otto and other pure essential oils. It is an USDA Organic miracle face elixir that may help repair and nourish dry, damaged or aging skin, boost the cell renewal turnover and provide skin with essential nutrients that may help improve overall skin texture and glow.
The pure Organic Rose Otto is known to rejuvenate skin and brighten pigmentation irregularities, improving overall skin clarity.
"The distillation of organic rose flower water and rose otto essential oil is an unique blend of science and art," said Daniel Kolev, Alteya's Co-Founder and Managing Partner. "The Bulgarian Rose is one of world's most exquisite flowers that has been used in beauty, medicine and aromatherapy throughout history. Our rose distillation process is much more complex than standard distillation to ensure we preserve the biodynamic synergies of the plant and capture the full therapeutic-grade properties of the Bulgarian rose in our products". He also added: "Organic cultivation of roses is much harder than conventional farming that uses mostly synthetic fertilizers and pesticides. Organic agriculture also requires more manpower, and has a large economic, cultural and social impact on surrounding communities."
With its long-term projects in the Rose Valley focused on sustainability, Alteya strives to engage with the local villages and gypsies and provide them with both employment opportunities and ways to preserve their traditions and culture.
The Alteya's USDA Organic 2-Step Skin Care set is available for purchase on Costco.com at http://www.costco.com/Alteya-USDA-Organic-Rose-Water-Spray-and-Serum.product.100292994.html
---
About Alteya Organics
Alteya Organics, a multiple award-winning beauty company, with its own certified organic rose farms in the heart of the Bulgarian Rose Valley, grows the organic Rosa damascena, distills essential rose oil (rose otto) and rose flower water, and creates organic skin care based on rose otto, according to world's strictest organic standard, the USDA NOP. Key company products include Alteya's Organic Bulgarian Rose Waters, Rose Face Washes, Rose Face Serums, Toners, Balms, and Mom and Baby skin care lines.