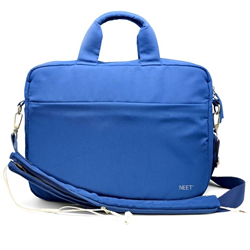 (PRWEB) May 25, 2016
When traveling out of town or headed to the local coffee shop, keeping a laptop protected is crucial. NEET's new laptop bag has everything covered. From the people who helped get those tangled cords under control... introducing NEET's new laptop bag.
Everyone needs a little NEET in their life. Remember the last time headphone cables came from the bottom of a crowded bag in one knotted up mess? Frustrating right? Declutter that chaos, ease that stress, and save those cords with an easy solution!​​
NEET is the perfect solution to untangling the clutter around the house, office, or even on the go. Known for keeping electronic cords protected and organized through a simple-to-use cable management tool, the passion behind this project was to improve people's lives and eliminate frustrations when it came to staying organized and keeping cables controlled. This bag was also created to organize, protect, identify cables and more.
Check it out, N​EET Laptop Bag (Apprentice Series):
-Expands automatically (Just push to retract)​
-Cable Organizer Shoulder Strap to​prevent tangles
-Double layer foam for double the protection
-Inner foam compartment for laptop, tablets and cell phone
-Hidden Luggage holder compartment to strap over luggage handles
-Integrated pockets to keep items organized
-Patented designs separating them from the ordinary cable management and organizational products
The NEET Laptop bag retails for $59.99 and is available in black, blue and red. To be among the first people to own one, order yours now at a discount at NEET kickstarter here, before they sell out!
Save space and hassle in your life with an easier way to control those cables on the go. For more information email check out their kickstarter, or email ​Sammi(at)chicexecs(dot)com.